The United Kingdom's Foreign Secretary, James Cleverly, has said that over £38 million of UK humanitarian assistance has saved the lives of vulnerable, conflict-affected people in North-East Nigeria – including women and girls. The Foreign Secretary made the remarks whilst visiting the UN's Humanitarian Air Service (UNHAS) in Abuja, where he viewed an UNHAS plane and met an UNHAS pilot and other UNHAS staff.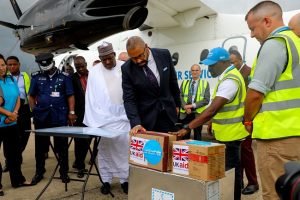 The UN estimates that over 8 million people in North-East Nigeria urgently require life-saving humanitarian assistance due to protracted conflict and crisis in the Lake Chad Basin region.
Earlier this year, the UN launched a special humanitarian appeal to prevent famine and provide life-saving assistance in North-East Nigeria over the critical "lean season" months (June-August 2023). Also, the Nigerian Government recently declared a 'state of emergency' on food insecurity across the country.
The UK's humanitarian assistance has been directly responding to these urgent calls for action, in partnership with the Nigerian people and Government.
Over the last 12 months, the UK has provided over £38 million of humanitarian assistance in North-East Nigeria. This funding is helping to protect people, build their resilience to the ongoing crisis, and prevent famine in this extremely food-insecure region.
During his visit to UNHAS – one of several UK humanitarian partners in Nigeria – the Foreign Secretary heard directly from aid workers and Government representatives responding to the crisis, including on how UKaid is delivering assistance to people who need it most.
The Foreign Secretary was accompanied by Dr Nasir Sani-Gwarzo, the Permanent Secretary of the Federal Ministry of Humanitarian Affairs, Disaster Management and Social Development, which is responsible for coordination of the Federal Government's humanitarian response and aligning stakeholder responses.
The Foreign Secretary was also accompanied by the UN Resident and Humanitarian Coordinator, Matthias Schmale; the Deputy Country Representative of UN World Food Programme, Guy Adoua; Country Representative of UNICEF, Cristian Munduate; ICRC's Head of Delegation in Nigeria Yann Bonzon; and Trond Jensen, the Head of Office of OCHA in Nigeria.
UK Foreign Secretary, James Cleverly, said: "I am very proud of the UK's humanitarian partnerships in North-East Nigeria. The £38 million we have contributed over the last 12 months is saving the lives of vulnerable people, including women and girls, who are demonstrating extraordinary resilience in the face of this protracted crisis. We will continue to work with new Nigerian Government and other partners, to support North-East Nigeria, so the whole country can reach its potential. The whole international community must support these efforts."
UN Resident and Humanitarian Coordinator, Matthias Schmale, said: "On behalf of the humanitarian community, I am deeply grateful for the £38 million contribution of the UK for humanitarian action in the North-East, which is contributing to giving countless people and notably vulnerable women and children a second chance. We are facing further funding challenges and are hoping that partners will step up their support to prevent further deterioration of the dramatic food insecurity and malnutrition situation."
The Permanent Secretary of the Federal Ministry of Humanitarian Affairs, Disaster Management and Social Development, Dr Nasir Sani-Gwarzo, said: "We are keen to intensify cooperation with the UK Government, particularly on increasing coordination between our new Ministry and other Ministries and partners across the humanitarian response. We particularly appreciate the UK's humanitarian assistance because it is not only financial, but also based on strong coordination, which we are keen to develop further."