Several hundred people of all ages, races and affiliations gathered near the South African Constitutional Court in Johannesburg on Friday, September 20, 2019 to join the global call for more action against climate change.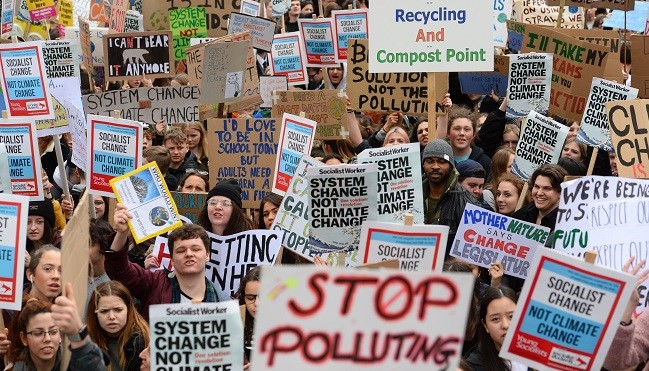 "Act now or there will be hell and high water" and "Don't be a fossil fool" were some of the messages adorning posters as the sweltering heat seemed to beat down its own warning.
A giant papier mache sun, a bird puppet with fiery wings, stilt walkers and a schoolboy in a panda suit added to the festive atmosphere of the peaceful march.
Teen activists Tariro Banganayi and Natalie Kapsosideris pleaded with the crowd to put more pressure on a government, which they claim is "stealing the youth's future."
British organisers of Friday's student-led protests against government policies on climate change said they expected around 200 events nationwide to draw a record number of supporters.
"This is going to be the biggest climate mobilisation that the UK, and the world, has ever seen," Youth Strike 4 Climate tweeted late morning.
The protests included an event in central London, close to the British parliament, where opposition Labour leader Jeremy Corbyn was scheduled to address the crowd.
Hundreds of people gathered in other cities including Oxford, Cardiff, Cambridge, York, Nottingham, Leeds and Liverpool.
"Amazing scenes like this unfolding around world!" tweeted Caroline Lucas, Britain's sole Green Party lawmaker, commenting on aerial footage of a protest in Melbourne, Australia.
"Don't let anyone say taking part in protests like this doesn't make a difference."
The UK Student Climate Network, one of the main organisers, said it wanted to "protest the government's lack of action on the climate crisis."
"We are mobilising unprecedented numbers of students to create a strong movement and send a message that we are tired of being ignored," the network said.
Kwasi Kwarteng, a business minister in the Conservative government, said he did not support action by school students.
"I am not going to endorse people leaving school because I think education – time spent in school – is incredibly important," Kwarteng said.
But Labour's London mayor Sadiq Khan sent a video message supporting the protesters.
"The government must see this strike for what it is – a demand for immediate, ambitious action," Khan said.
South Africa has been criticised for its heavy reliance on fossil fuels.
Earlier this year, the town of Kriel in the north-eastern province of Mpumalanga was named in a Greenpeace report as being the second-worst sulphur dioxide pollution hotspot in the world.
Trade unions, representing the workers of large companies accused of putting profits before pollution also attended the march.
These companies "pay high taxes to the government" and so have "massive influence," said Banganayi, adding that it is the poorest people, who will be most affected by the crisis.
According to the UN, Africa will be severely affected by a "warming world," which will have implications on rainfall and temperature.
West Africa is a climate change hotspot, with the Sahel region possibly the most affected area in the world, according to the report.
Similar marches took place in Uganda, Nigeria and Kenya on Friday.