Typhoon Vamco blew out of the Philippines on Friday, November 13, 2020, leaving behind at least 14 dead and 14 missing people after triggering the worst flooding in the capital Manila in years, officials said.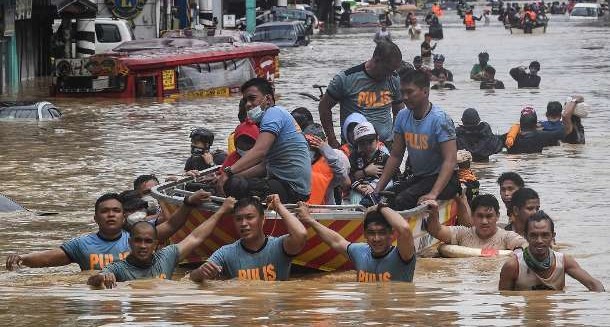 More than one million people were left with no electricity on the main island of Luzon, including the capital region of Metro Manila, while more than 400,000 were forced to flee their homes.
The typhoon, called Ulysses locally, slammed into the country on Wednesday, spawning destructive winds and torrential rain.
It has since weakened and was packing maximum sustained winds of 110 kilometres per hour (km/ph) and gusts of up to 135 km/h, the weather bureau said.
Vamco caused massive flooding in Metro Manila, prompting authorities to suspended government work and commercial establishments to shut down.
Officials likened the deluge to the disaster brought by tropical storm Ketsana, which dumped a month's worth of rain in a day in the capital in September 2009, killing more than 740 people.
The death toll and number of missing were reported by the national disaster risk reduction management office, but no further details were immediately available.
The military and police reported higher death tolls but Interior Secretary Eduardo Ano said local disaster officials need to confirm that the fatalities were caused by the typhoon.
Vamco was the 21st tropical cyclone to hit the Philippines this year, and the fifth since October.
The strongest typhoon to hit the country was Typhoon Haiyan, which killed more than 6,300 people and displaced more than four million in November 2013.