Tuvalu Minister of Finance, Seve Paeniu, has joined Pacific civil society on the island of Kioa, Fiji, to launch discussions on accessibility to climate finance ahead of the Pacific Forum Economic Ministers Meeting in Suva from August 9 to 10, 2023.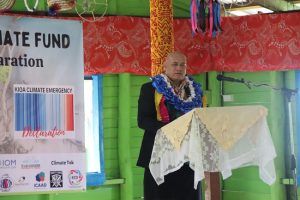 The "Kato Pacific Community Climate Fund" was first discussed in October last year, when Pacific civil society representatives signed the Kioa Climate Emergency Declaration. Frontline communities in the Pacific continuously face the brunt of the climate crisis and are struggling to access resources for disaster recovery, adaptation and energy security.
This week in Kioa, frontline communities will formalise "Kato", the community-driven climate fund informed by the practical realities and difficulties of trying to access climate finance.
Paeniu said: "I commend the vision and foresight of the CSOs in crafting the Kato concept.
"It cannot and need not be similar to other existing climate funding mechanisms. A huge drawback, limitation or disadvantage of these various existing funding modalities is because of the following factors: duplication of coverage on scope and activities which leads to competition for limited available funds and pledges, complex access rules and procedures with strings attached.
"Kato will need to be unique and avoid representing the same objectives and scope as those other existing funds, so as to avoid the fate and difficulties many of the other funds are facing."
Pacific finance ministers are meeting in Suva to discuss the economic state of the Pacific and to consider updates on a regional strategy and roadmap that addresses issues of access and mobilisation of climate finance.
"For Kato, it is important that we avoid the limitations of other funding mechanisms, and that the Kato funding modalities must incorporate the following principles: flexible and responsive to need, at scale and with speed, and grant or concessional based not credit or debt financing," said Paeniu.
The hope of frontline communities and civil society is that the Kato Pacific Community Climate Fund will be an answer to the obstacles faced by communities struggling to access the pools of climate finance pledged at regional, bi-lateral and international levels.
Joseph Sikulu, Pacific Managing Director for 350.org, said: "We need to build and rebuild some of the systems that have failed us thus far. What our communities struggle with is that so many of the existing climate finance mechanisms require layers of criteria that we don't have the luxury of time to meet. The climate crisis is happening now, and communities are needing to relocate, adapt and set up alternative energy sources now.
"The aspirations of this fund are that we can reduce some of those barriers for our people and give them access to the resources they need to thrive in this time of crisis. Climate and energy solutions exist within the Pacific, but we need access to finance to make them a reality today."