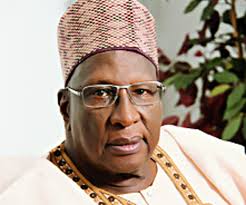 The immediate past National Chairman of Peoples Democratic Party (PDP), Ambassador (Dr) Bamanga Tukur, has called on Nigerian politicians to ensure the enthronement and sustenance of equity and justice in their political crusade and dealings.
According to him, equity and justice remain the bedrock for the consolidation of democratic structures and ideals.
Speaking during a one-day sensitization seminar organized by the Party's State Executive in Yola for elected PDP delegates for Saturday PDP Governorship Primaries, Tukur said that the exclusion of fair play, equity and justice in our political dealings will have catastrophic effect on our resolve to use democracy our choice of government.
He said that it was such vices of exclusion of equity and justice that have given room for acts of dictatorship and imposition in our political structure and parties.
Ambassador Tukur warned that the act of imposing candidates on political parties was absolutely adverse and negative to democratic principles and ideology.
He made it clear that democracy is an avenue through which people choose and decide who will rule or govern them in elections that are free and fair.
He added that one of the cardinal policies and principles he introduced and fought for as the National Chairman of the Party was election instead of imposition; discipline; equity and justice.
He urged Nigerian electorates to stick to the exercise of their Constitutional rights by always using their votes to vote-in people they want and vote-out people they do not want.
Tracing the history of PDP formation of which he is a founding member, he submittedthat the founding fathers formed the PDP as a Party for the people by the people and for the people.
He warned of the dangers of imposing people from opposition parties against the interest of consistent and loyal members of the Party who have suffered for the Party for the sake of being the flag-bearers of their new party on executive or legislative elections.
Tukur finally urged the delegates to always use their votes wisely saying their votes should not be for sale and any act to make their votes a mercantile affair will be inimical to internal democracy of our political parties and political dispensation.
A former Federal Minister of Education, Dauda Birmah, who also addressed the delegates, commended Ambassador Tukur for his efforts and struggles for the enthronement and sustenance of democracy in in Nigeria.
He remarked that Tukur was one of those who fought for the democracy we are enjoying today even at the risk of their lives.
The Deputy Chairman of the State PDP Executive, Jingi Rufai, who spoke earlier also thanked Tukur for his services to the Nation and the PDP.
The Deputy Governor of former Gongola State, who served as Deputy Governor to Bamanga Tukur, Barristerr David Barau described Tukur as a detribalized Nigerian who has no place for tribe, ethnicity or religion.
The delegates sensitization seminar ended on Thursday, 4th September, 2014.