Worried by the threat to environment posed by massive tree felling, the Department of Petroleum Resources (DPR) has urged Nigerians to embrace the use of gas for domestic energy, rather than charcoal.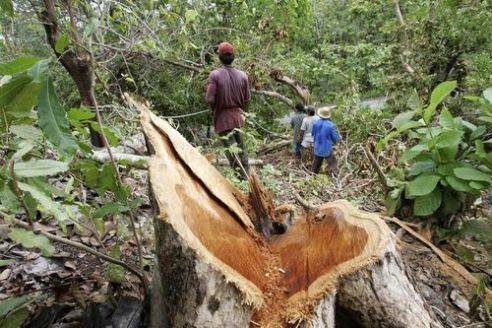 "More trees are being cut down everyday; such deforestation is degrading the environment. The media should educate Nigerians to resort to gas for their domestic energy needs," DPR operational controller in Niger State, Abdullahi Isah, said on Tuesday, July 24, 2018 in Minna, the state capital.
Isah made the appeal when Malam Bawa Mokwa, Zonal Coordinator in Charge of North Central Federal Information Centres, paid him a courtesy visit.
He said that deforestation had become a major challenge, declaring that the use of gas was the best measure toward minimising the menace.
"We need to let people know that this gas that they are so afraid to use is the cheapest form of domestic energy.
"We must also encourage them to understand that gas is safe via massive education on safety measures," he said.
Isah warned that the indiscriminate resort to tree felling would make society vulnerable to natural hazards and urged media houses to dedicate time and spaces to educate the public on such hazards.
He advised members of the public to always report illegal activities by marketers to the DPR, saying that such information was crucial to effective service delivery.
Earlier, Mokwa had expressed readiness to partner with the DPR to check the diversion of petroleum products from Mokwa, Babana and Izom areas to major cities of the state.
He appealed to DPR to intensify its monitoring effort on boarder areas, saying that the federal information department was ready to assist in the dissemination of information in that respect.
Mokwa commended the DPR for stabilising the supply of petroleum products and reducing sharp practices among marketers, noting that hoarding had been drastically reduced.
By Rita Iliya