Now that roads have been paved into the Atewa Range Forest Reserve, which is the largest of the country's Globally Significant Biodiversity Areas (GSBAs) – government's intention is very clear – to mine the rich bauxite deposits in Atewa. Civil society groups and concerned individuals, who believe that Atewa can best serve the nation when left unmined, have equally made their intentions known – to use whatever means available to stop what they see as abject disregard for ecosystem services vital for sustaining human life on earth.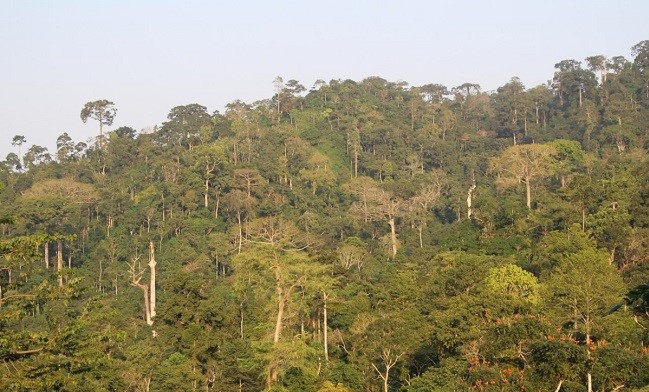 This situation has brought the issue of whether to conserve or not to conserve Ghana's protected forest reserves and biodiversity rich areas, to a very critical stage – what do next. Admittedly, it is a difficult situation that will require all concerned and interested parties to be willing to do what will work best for the country.
Some socio-economic and forestry experts are of the view that the next important step in the case of whether to conserve or not to conserve our protected forests, is to halt any mining inclined activity in Atewa and undertake a massive genetic index survey of protected and productive forests. This will ensure that subsequent decisions are backed by factual evidence and devoid of emotions and partisan interests.
These experts who have been informally discussing the issue, believe that it is time for the debate to move forward from entrenched positions to scientifically proven and evidenced backed decisions in the interest of all Ghanaians.
According to them, a genetic index survey will help determine the environmentally and economic viability of protective and productive forests. Some of the forestry experts insist that most of the productive forest especially a Timber Utilisation Contract (TUC) area, formerly known as a Timber Concession, are better protected than those designated as protected forests.
This is so because TUCs are where industry gets its raw materials from. One timber operator noted "we stick to the rules of the logging manuals since it is the best of our own interest. We also ensure that these areas are well protected, therefore, illegal loggers cannot operate there, and farmers do not encroach."
He maintained that the forest reserves under the mandate of the formal forestry sector have been severely encroached and degraded because, there is no human presence in these areas. The problem can be traced to the dwindling of staff strength of the Forestry Services Division over the years, lack of logistics and demotivation.
He added that most of these protected areas were hurriedly carved out without any real assessment of their actual genetic diversity in terms of the amount of differences in species and also the ecological diversity in terms of the different ecosystems within a region.
While they do not doubt that areas like Atewa certainly deserves its status as GSBA, because it is a truly, naturally well-endowed biologically diverse forest, the experts say most of the other GSBAs are empty reserves that do not deserve to be protected. They should rather be given out for re-planting.
Interestingly, both sides of the debate, government and civil society have done some form of assessment to support their positions – government's own is that mining Atewa will among other things create jobs under the Master Project Support Agreement with Sinohydro Corporation of China. It will also provide much needed infrastructure including roads and hospitals.
Civil Society wants Atewa to remain as a biodiversity hotspot in the West African Upper Guinea Forest Ecosystem, because among other benefits, it is the source of water for over five million people. "These ecosystem services cannot be quantified in monitory terms," says A ROCHA Ghana's Executive Director, Dr. Seth Appiah-Kubi.
He maintains: "We are aware and mindful of the need for economic development for our country, but we are also aware that safeguarding important critical ecosystems and the natural environment in general are key elements in achieving sustainable development for any country."
It is for this reason that civil society groups and concerned individuals, are fighting very hard to stop not just the process of mining in Atewa, but to also halt the current quest to re-designate protected areas as productive areas for logging or mining. Consequently, on Friday, June 21st, civil society members undertook a protest march that culminated in the submission of a petition to the Majority Leader in Parliament, Osei Kyei-Mensah Bonsu.
Among other things the petition reminded Parliament that mining Atewa in its current status as a GSBA violates existing laws of Ghana such as the Forest Act of 1927 (CAP 157), which sought to create corridors for posterity. The petition also implored Parliament to effectively play its oversight responsibilities through effective due diligence of mining agreements.
Additionally, the petition asked Parliament to exclude Atewa from any bauxite mining agreements, so that it can continue to provide the resources and life support services that millions of Ghanaians depend on. It further asked Parliament to ensure full transparency throughout the whole bauxite development project, so that communities can make informed choices regarding any associated development project in their localities.
The petitioners are still awaiting response from the Majority Leader.
In the interim, the suggestion by the various socio-economic and forestry experts calling for a scientifically based assessments of at least the key protected and productive forests, is worthy of note. Such a survey will obviously require a lot of resources, but for a worthy cause since it will result in the making of informed decisions for the benefit of not just present generations of Ghanaians, but also for future generations.
Besides, such a survey will foster the building of national consensus on the management of the country's key biodiversity areas, so that whether they are conserved as protected areas or re-designated as productive areas or remain as productive areas, they will all contribute to revenue generation to support the nation's socio-economic development.
By Ama Kudom-Agyemang