In a recent interview, Ambassador Dr Amina Mohamed sets out her case in her candidacy for the position of African Union Chairperson that will be decided at the forthcoming AU Summit at the end of this month.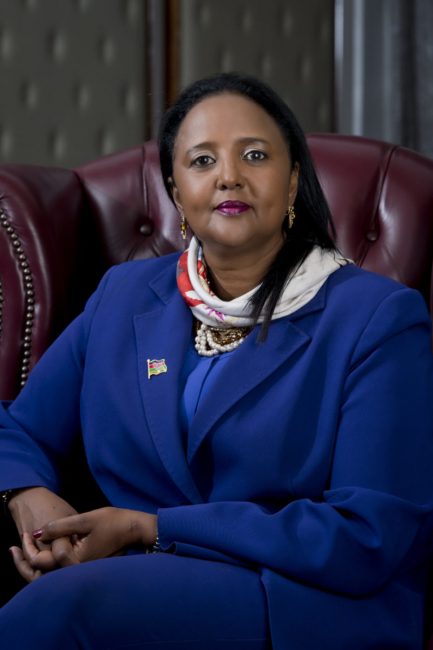 "I am a tough, but fair, negotiator and what I enjoy doing most is building consensus, unifying people and sticking on message to obtain optimum outcomes," she says.
Ambassador Mohamed, Kenya's Minister of Foreign Affairs, is confident her track record stands her in good stead to take on the role as chairperson. Her experience as a chief negotiator at the highest level, be it at the WTO, at the UN Environment Programme (UNEP) or at GATT (the General Agreements on Tarrifs and Trade) have shown she can get different vested interest to find a mutually beneficial position, bringing about consensus for the benefit of the majority.
She sees herself as a passionate Africa and pan-Africanist always fighting Africa's corner at international fora, in some cases as a lone voice for the developing world. As well as building consensus, which is the first step in any discussion, she says that her strength comes from actually getting things done.
Implementation, she says, is where she will focus her energy, so that the AU fulfils the expectation of the people of the continent.
"We need to implement, rather than simply make declarations. Implementation has been woeful – my mantra will be implementation, implementation, and implementation," she notes, adding that her strategic focus will be on doing better with existing resources.
In order for AU reforms to work, she says, "You must bring everybody along. That is why experience in reaching consensus is vital to this job."
In building equal partnerships for the delivery of Agenda 2063, Africa's ambitious roadmap for sustainable socioeconomic development, Ambassador Mohamed says that a different conversation is needed in order to confront some of the most complex global challenges facing Africa.
Amb. Mohamed has received the endorsement from a number of private sector leaders including James Mwangi, CEO of Equity Bank and Josphat Mwaura, CEO & Senior Partner at KPMG in Kenya. They called for a more private sector approach from the AU, which is something that she has been advocating in her manifesto and in her statements.
Amb. Mohamed has also been endorsed by young leaders including Ms. Mariéme Jamme, the Tech Entrepreneur, Activist and a Young Global Leader recognised by the World Economic Forum for her activism work in empowering and investing in young girls and women.
The other candidates for Chairperson of the African Union Commission are: Botswana's Pelonomi Venson-Moitoi, Chad's Moussa Faki Mahamat, Equatorial Guinea's Agapito Mba Mokuy, and Senegal's Abdoulaye Bathily.