The cats' return to Caucasus is expected to lay a foundation for new Persian leopard population in Russia. The Persian leopard population declined drastically throughout the 20th century due to poaching and habitat loss.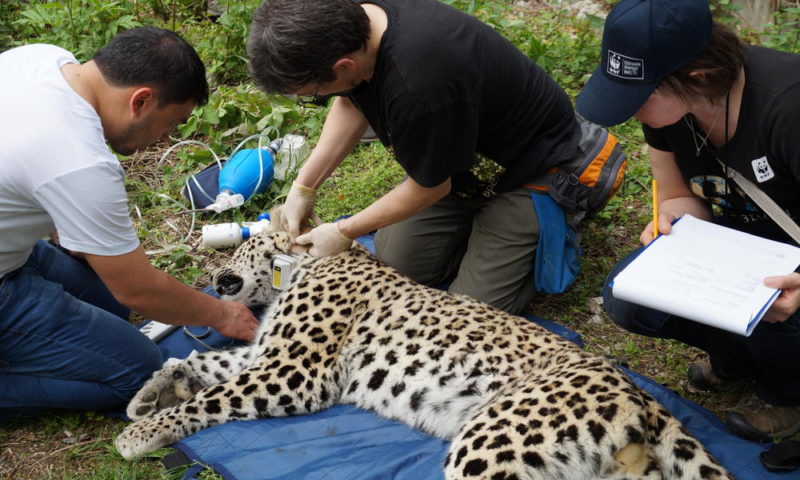 Three Persian leopards were on Saturday July 13,2016 released into Russia's Caucasus (Kavkazsky) State Nature Biosphere Reserve. The event has been described as a remarkable step in restoring leopard populations to the Caucasus.
Until the middle of the 20th century, Persian leopards were common in the Caucasus. But, by 1950, their population had dramatically decreased, and was entirely extinct in some areas reportedly due to human activities.
In 2005, experts from WWF-Russia and the Russian Academy of Science developed a long-term programme to reintroduce Persian leopards in the Caucasus. Russian President Vladimir Putin has supported the programme since 2009
The work was an ambitious undertaking, according to the promoters. First, the territory was prepared for the rare cats. Ungulate populations were increased in order to provide prey and protection measures strengthened.
Adult leopards from zoos cannot be released into the wild: they are unable to catch prey and are not afraid of humans, it was gathered. In 2009, with support from the World Wildlife Fund (WWF), a special centre was built near Sochi to breed and prepare leopards for a life in the wild.
Initially, the Centre hosted two males from Turkmenistan and two females from Iran. Later, a leopard pair brought from the Lisbon Zoo had their first litter in the Centre in 2013. By 2016, a total of 14 kittens were born in the centre.
The leopards released have reached sexual maturity and received special training to survive independently in the wild. They also have satellite collars that will allow programme staffers to track the cats after their release.
The programme aims to create a self-sustaining Persian leopard population in the wild, which means a population of at least 50 leopards in the Northern Caucasus. Though there is still much work to do, the first release offers tremendous hope for these endangered cats, officials disclosed.
The Programme for Reintroduction (Restoration) of the Leopard in the Caucasus was initiated in 2005 by WWF-Russia. In 2007, it was approved by the Ministry of Natural Resources and Environment of the Russian Federation and, since 2009, it has been supported personally by Vladimir Putin.
The Programme is implemented by the Ministry of Natural Resources and Environment of the Russian Federation with the participation of the Sochi National Park, Caucasus (Kavkazsky) State Nature Biosphere Reserve, A.N. Severtsov Institute of Ecology and Evolution, Moscow Zoo and WWF-Russia, and with the support from the International Union for Conservation of Nature (IUCN) and European Association of Zoos and Aquaria (EAZA).