A group of widows who were involved in recent capacity development programme in Abuja has been telling anyone that cared to listen how the initiative has impacted them positively.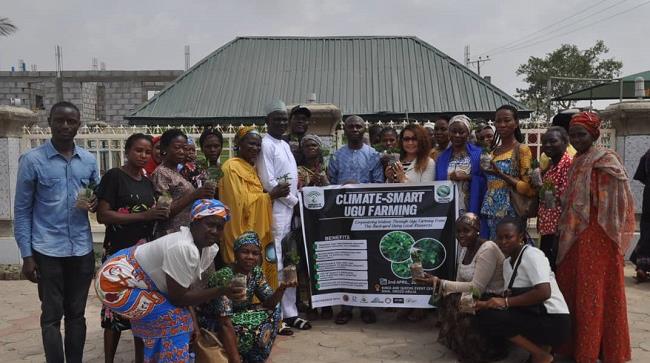 On Saturday, April 2, 2022, the Abundance of Hope Initiative (AHI), a non-governmental organisation (NGO), collaborated with the Ugu Farmers Association (UFA) to train widows on "Climate Smart Ugu Farming".
Ugu leaves, otherwise known as fluted pumpkin leaves, is said to possess numerous health benefits – either consumed as soup or blended juice.
The elated widows showered encomiums on the organisers of the programme, saying that the lessons learnt would help them to become independent and fend for their families.
One of the participants, Mrs. Nkwocha Theresa, who lost her husband 10 years ago, said she had been moving up and down seeking help and doing menial jobs to cater for her family but that, with this training, she has gained so much that money cannot buy.
"I am confident that I will increase with the 20 seedlings I have gotten using the organic supplement the way we were taught. This will help me cater for my family with ease. I am confident that my family will be eating healthy vegetables from my backyard while I also operate the garden as a business, from where I can now comfortably pay the children's school fees," she said.
Another participant, who identified herself as Mrs. Mercy Bala, said she is pleased with the training as it is an initiative aimed at lifting some of them out of poverty. She said that, with more support from the government and other stakeholders, they can be well established in the business and other widows out there can also benefit from the programme.
She added: "I'm calling on the government and well-meaning Nigerians to come and help liberate widows from their plight by helping them get established in the business. I commend the organisers for putting this training together for us widows. From the knowledge I received from the training, I can comfortably go and nurture ugu organically and this is very important for me as I have a diabetic mother whose meal is mostly vegetables."
She said she would start the business in her little way to cater for her sons' education and her family's needs, adding that when she is a little bit stable in the business, she hopes to empower other widows that did not have the opportunity.
In an opening address, executive director of AHI, Ambassador Taiye Sasona, said: "Today, we're empowering widows by training them on organic farming of ugu vegetable in collaboration with Ugu Farmers association (UFA) and we will be helping them start their businesses around this as we provide them with market for sustainability.
"Ugu farming was chosen because of its health and economic importance. Ugu leaf from research happens to be the vegetable with the highest health benefit after moringa leaves. The demand for this vegetable keeps increasing while the supply remains minute. We decided to train widows on climate smart farming knowing that this will help produce ugu vegetables free from chemicals and good for exportation as well as protecting the environment as we know that there will be no depletion of soil with chemicals.
"Now is a perfect time to empower women in agriculture because the sector has a unique potential for empowering women and providing opportunity also. This programme will not only increase women's participation, productivity, profit and benefit in agriculture system but will also enhance effectiveness and sustainability."
In a keynote speech, the president, Ugu Farmers Association (UFA) president, Mr Terhemen Aondoakaa, disclosed how the association has trained people over time to become business owners and self-reliant through ugu farming.
He added that despite the training and empowerment of people to go into ugu farming, they are still not able to meet up with the demand of ugu and hence encouraged the widows to take the training and by implication the business very seriously as the business has the capacity of lifting anyone from poverty.
The women leader of UFA, Mrs. Stella, further encouraged the widows not to take the training with levity as ugu vegetable is not just a food but also serves as natural medicine for treating diseases.
Facilitating the training, Aondoakaa listed the step-by-step process of ugu cultivation beginning from the clearing of land, tilling of the soil, beds preparation, planting of the ugu seeds, fertiliser application, weeding, watering and even harvesting.
He noted that ugu is always harvested every two weeks for a period of two to five years but, with organic production, harvesting can be done every week. Questions were asked by participants, and they were duly answered by the trainer.