Fisheries and aquaculture sector constitutes an essential source of economic activity in the Democratic Republic of Congo (DRC), surpassing livestock, accounting for 12% of agricultural GDP. The industry contributes to 40% of total animal protein intake in the country.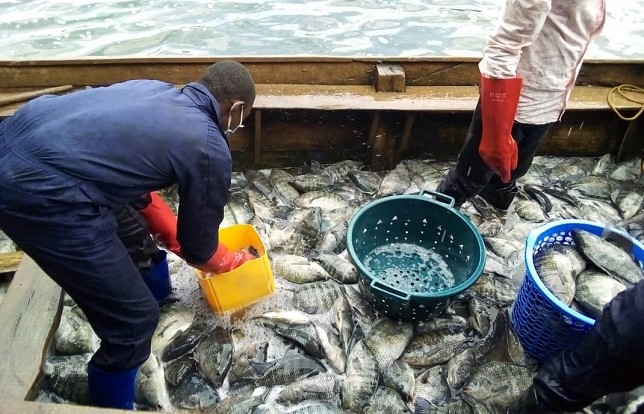 The annual average per capita fish consumption is about 5.9 kg – very low compared to the continental average of approximately 9.4 kg. Most of the fish consumed in the country is imported from countries such as China, South Africa, Uganda, and Burundi.
However, DRC has vast environmental resources to produce what is required for home consumption and could even become a net exporter of fish. A survey between 2018 and 2019 showed an influx of 20 MT imported fish per week entering the city of Bukavu in South Kivu.
Young people make up an important part of the Congolese population with about 70% under the age of 40. Unfortunately, they are few opportunities to earn a decent wage as underemployment and youth unemployment are widespread. Involving youth in agribusiness and entrepreneurship presents an opportunity out of this conundrum.
A group of young people in 2016 began exploring aquaculture opportunities using tilapia cage culture system in South Kivu on the Green Lake located in Murhesa, Kabare territory. The initiative was supervised by the International Institute of Tropical Agriculture (IITA) on entrepreneurial basis to meet the demand of the growing urban market. With low productivity been recorded due to lack of managerial skill and aquaculture training, the path became clear for an intervention by the Aquaculture Compact of Technologies for African Agricultural Transformation (TAAT).
Sponsored by the African Development Bank as part of its "Feed Africa Initiative", TAAT's main objective is to improve the business of agriculture across Africa by raising agricultural productivity, mitigating risks and promoting diversification and processing in 18 agricultural value chains within eight priority intervention areas.
The programme increases agricultural productivity through the deployment of proven and high-performance agricultural technologies at scale along selected nine commodity compacts which include aquaculture.
Led by the WorldFish Centre, TAAT Aquaculture Compact (TAC) disseminates aquaculture technologies that increase value chain actors' productivity, increase fish protein consumption and enhance sustainability across the value chain.
To address the lack of managerial skills and better management practices among aquaculture actors in DRC, TAC in August 2019 facilitated their participation in a one-week training on fish breeding at the WorldFish Centre in Abbassa, Egypt. The training provided an opportunity to enhance participants' knowledge and understanding on how to improve fish productivity through a breeding programme. Participants at the Abbassa training also learnt how to select and manage brood stock for production of quality fingerlings and fish production as well as how to put in place a long-term developmental programme for fish production by private investors.
Upon their return and with support from the Congolese government through the Industry Promotion Fund (Fonds de Promotion de l'Industrie, FPI) and IITA, the Congolese participants at the WorldFish training were able to organise step-down training to breeders and fish farmers at both national and local levels.
The young aquaculture entreprenuers who participated in the step-down trainings recorded remarkable improvement in fish production using the tilapia cage culture system.
"Before the training, we used our locally made cages to grow tilapia on Lake Kivu but we could hardly hit a production target of 800kg/cage. Following the training on mono-sex tilapia production and the fish feed we received from IITA, our fish harvest jumped to 3.3 tons in cages of 144m3," says Justin Mugabo, who coordinates the Bukavu Fishermen Association (Union pour le Développement des Pécheurs de Tilapia au Kivu).
"This intervention has completely changed me and my team as our income has increased significantly. By selling 500kg I can have $2,500 that I have never gained in one production cycle before. Indeed, TAAT through its floating cage culture technology, is a saving blessing for our group of Young Fish Farmers because we are earning much more than ever before," Justin added.
TAC equally facilitated a training on floating cage management for fish and distributed tilapia fry from one of the tilapia breeders in South Kivu Province. Through this, the production of mono sex tilapia fry by hapa production system became possible at the Kamanyola site. The monosex tilapia fingerlings were used to stock the floating fish cages, mainly produced in fishponds with hapas by a group of 16 youth under the auspices of Bukavu Youth Agripreneurs. With further support in terms of tilapia broodstock, hapas, fish feed, sanitary products among several other inputs coming from TAC, the young fish farmers were able to increase their production from 135,000 to 450,000 tilapia monosex fingerlings bimonthly.
Apart from the 15 cages initially installed on the Lake Kivu through project interventions, 110 cages are presently in use with individuals owning 60 while 50 belong to the FPI. In addition, over 480 youth are now involved in the production of cage fish culture on Lake Kivu with about 5,500 jobs being created through cage culture system in South Kivu. A total of 4,500 farmers have been trained in the management of cage culture system by the compact while those trained in assembling local cages are 30.
The foregoing has led to increased consumption of locally produced fish from cage culture system in Bukavu. This technology is already playing a very important role in South Kivu where it contributes significantly to the reduction of fish importation especially during the COVID-19 pandemic when all borders were closed.
"This floating cage project has succeeded in providing a significant response to the overall demand of the city of Bukavu and its adjoining towns during the critical period of total lockdown, never seen in years," says Safari Mulume, a value chain analyst at the Food for the Hungry agency in DR Congo.
Prof. Bernadette Fregene, leader of the TAAT Aquaculture Compact, believes that there is still more work to be done.
"Lake Kivu contains 55 bays for aquaculture and only 8 are being used presently. We intend to extend trainings to youth located in nearby communities to these bays in order to exploit opportunities for increased fish productivity and turn DR Congo into a net exporter of fish," she added.