The Taraba State Commissioner of Environment and Climate Change, Hajia Aishat Barde, on Friday, October 13, 2023, led a Climate Change Road March Awareness Campaign in Jalingo, the state capital.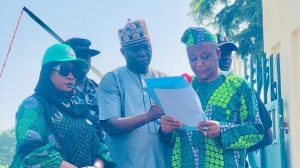 The march was aimed at sensitising people on the impact of climate change on the environment and to urge them to adopt sustainable practices that will help mitigate the effects of climate change.
The Road March started from the Ministry of Environment and Climate Change to Taraba State Government House, where the team was received by the Deputy Governor, Alhaji. Aminu Abdullahi Alkali, on behalf of the Governor, Dr. Agbu Kefas.
In his speech, the Deputy Governor highlighted the importance of raising awareness about climate change, and the role that every individual must play in combating this global issue.
He emphasised the need for sustainable practices, stating that the state is moving towards adopting green technology, and implementing stricter environmental regulations.
Earlier on her part, Haj. Barde spoke on the dangers posed by climate change, such as flooding, desertification, loss of biodiversity, and other environmental challenges.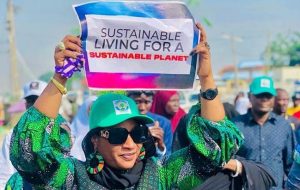 She underlined the need for environmental education at the grassroots level to raise awareness and promote sustainable practices.
The event was attended by several top government officials, including the Secretary to the Government of Taraba State, Chief G. T. Kataps Ngwii, commissioners, permanent secretaries, and other top government functionaries, alongside several unions, and NGOs.
The march created a significant impact, as it drew attention to the issue of climate change and encouraged more people to take action towards creating a sustainable future.
Observers believe that the Climate Change Awareness March in Taraba State was a step in the right direction towards mitigating the negative impact of climate change on the environment.