"I'd end Apapa gridlock in 60 days in the office" – Babajide Sanwo-Olu, Lagos State governor-elect (The PUNCH, Monday, May 20, 2019)
Addressing his audience like a typical politician at a "Congratulatory Dinner Reception" organised in his honour (on Saturday, May 18, 2019, at the Wheatbaker Hotel in Ikoyi) by his classmates at the Executive Master of Business Administration class, the University of Lagos 1998/2000 set, the Lagos State governor-elect, Babajide Sanwo-Olu, was reported to have made the above statement which featured in most national dailies as a news item the following day.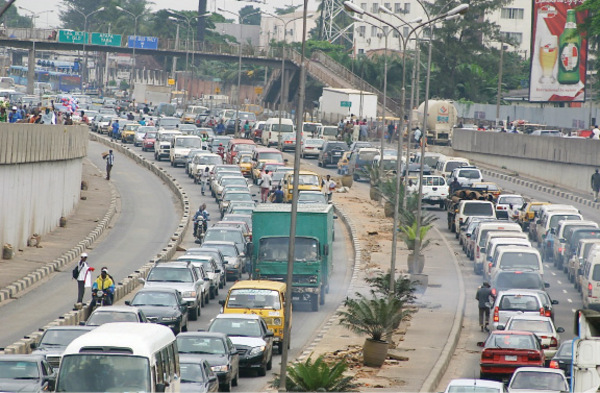 Flashback to his electioneering for the coveted seat of Lagos State governor earlier this year in fierce competition with the outgoing governor, Akinwunmi Amode, whose four-year tenure in office will terminate on May 29, 2019, Sanwo-Olu was full of rhetoric how he would solve many problems plaguing the Lagos mega city. Conspicuous among these problems is the gridlock all over the city, most especially the ubiquitous trailers that littered the vicinity of the Apapa port causing untold suffering to port users, other Lagos motorists and particularly the residents of the area.
As laudable as his propositions are in ameliorating Lagos gridlock in general, Sanwo-Olu is again coming up with another ambitious project (my emphasis) which will be complementary to other solutions the governor-elect has in the pipeline as he said on the occasion of the congratulatory dinner referenced in this piece. I quote him verbatim: "Five or 10 years ago, if we have been forward-looking, we would have also realised that the city had actually outgrown the Apapa port. Our government, by the Grace of God, will start the Badagry port. That is the long-term solution…. (to diffuse the pressure on the Apapa port)."
Albeit, developing a new port might sound a perfect score strategic plan, Sanwo-Olu must think deeply about the logistics involved, availability of the humongous funds required by such capital-intensive project and the petty politics we normally play in this clime all in the name of governmental supremacy. Added to this is the personal ego of our politicians who are usually averse to the dictum that: Government is a continuum. I will elaborate further on this later.
To put it simply, Sanwo-Olu's boastful statement about how to tame the gridlock in Lagos seems on the surface a good intention, but it is more of wishful thinking. It is easier said than done. In reality, it is a tall order because of many unforeseen obstacles, which the governor-elect would contend with before he leaves office whether as a one-term or two-term governor. The issue of the Lagos Lite Rail started during the Fashola administration 12 years ago; but still left uncompleted to-date is a pointer to the caveat sounded above.
Governor Ambode for reasons best known to him, while he held sway at the helm of affairs in Lagos State for four years, did not show serious commitment to carry on with the implementation of the Lagos Lite Rail project. He chose a different path to solving the Lagos gridlock paying more attention to the development of waterfront jetties to encourage water transportation. He also invested heavily in land transportation through the acquisition of many high-capacity buses and construction of bus stops at the nooks and crannies of the megacity, while the completion of the Lagos Lite Rail was pushed to the back burner despite its importance as a strategic traffic solution.
Governor Ambode can be given due credit for area-wide development of critical roads and construction of bridges within the megacity region, it was an inadvertent, ill-advised and ego-centric error to have abandoned such a vital project as the Lagos Lite Rail initiated by his predecessor in office because of a rumoured in-fighting between him and former Governor Fashola whose sterling transformation of Lagos as an emerging megacity has no equal till date. Had the implementation of the Lagos Lite Rail project been continued and completed by Amode after Fashola left office, Lagosians must have been feeling the positive impact of the project by now.
We, therefore, counsel that rather than Sanwo-Olu embarking on another capital-intensive white elephant port project at Badagry, the governor-elect should try to "spend less money to achieve more" for the overall public good, in his quest to free Lagos from the firm grip of gridlock. We want to identify some of the little irritants responsible for traffic chaos Sanwo-Olu ought to give top priority attention. The abolition of the traffic irritants must be spearheaded by the LASG with strong political will devoid of any sentiment. The corrective measures to reduce the gridlock in Lagos to the barest minimum include, but not limited to the following suggestions:
Sanwo-Olu must be held responsible for his voluntary statement that he will solve the Apapa gridlock within six months upon resumption of office as the new Governor of Lagos State. If he said so, he must do it. It must not be an empty boast because Lagosians expect the governor-elect to hit the ground running once he assumes office on May 29, 2019. Failure to dislodge the irritant trailers parked all over the streets at the Apapa port as promised by Sanwo-Olu, would create an irreversible credibility problem for him and loss of citizens' confidence in his managerial and governance ability. Therefore, he must walk his talk.
Sanwo-Olu must be tough against traffic indiscipline among erring motorists. Truth must be told, law and order has broken down in Lagos unlike what obtained during Fashola's administration (2007-2015) when most motorists were more law-abiding and the Act banning Okada operators from plying major arterial roads in Lagos was strictly enforced to the letter. While the prohibition was in force, traffic sanity prevailed most especially in Ikoyi, Lagos CBD on Lagos Island, Victoria Island, Awolowo Road, Ikoyi, Airport Road, Allen Avenue in Ikeja and the vicinity of the Lagos State Government Secretariat at Alausa. The story is different today. The traffic peace of times past has been rudely disrupted. The Okada operators have become a law unto themselves. They drive dangerously on any road sometimes driving against traffic with impunity. They ply major highways and bridges around the city such as Apapa-Oshodi Expressway, Ikorodu Road, Eko Bridge, Third Mainland Bridge, and Carter Bridge. They don't obey traffic lights. They pose a security risk to pedestrians because many of them have been caught in armed robbery operation. Sanwo-Olu must return to status quo ante by clamping down on the excesses of the Okada operators and make sure they don't ply the roads they are prohibited by law not to operate. Enforcement of traffic control and management is not rocket science. It requires only political will to do what must be done by the traffic regulatory agency, LASTMA.
Sanwo-Olu must pay attention to fundamental details that would facilitate the smooth flow of traffic in Lagos. We identify this as quick restoration of all the faulty/non-functioning traffic lights within the megacity and installation of additional ones where they are essential at some traffic bottlenecks within Lagos.
All damaged roads must be repaired to make them user-friendly by motorists. A lot of inner-city and alternative roads are ridden with potholes big enough to swallow a vehicle. Under such condition, traffic flow will slow down while motorists try to avoid the gully potholes. The government must put the Road Gang personnel in Lagos State urgently back at work to engage in massive road rehabilitation throughout the municipality.
Lagos roads must be made user-friendly. It is the responsibility of government to make driving on Lagos roads very friendly to road users as much as possible. However, there is a missing link to this perspective. Many roads are not properly equipped with directional signs; vehicle lanes are not clearly marked or demarcated with broken and solid white lines to guide motorists on the use of road space while driving. In the absence directional signs on most roads in Lagos, motorists lack driving etiquette most especially the commercial bus drivers who are always in a hurry and full of road rage behaviour. Many drivers over speed causing avoidable accidents, they make an unnecessary turn in the middle of the road mindless of the safety of on-coming vehicles and always in breach of traffic regulations.
Sanwo-Olu must direct the relevant government traffic institution to mark the roads provide traffic signposts and directional signs where appropriate. These are some of the inexpensive methods the Governor-elect should consider in taming Lagos gridlock before going to the next level of new port development at Badagry.
By Yacoob Abiodun (Urban Planner/Planning Advocate, Parkview Estate, Ikoyi, Lagos)