In many Nigerian villages, open defecation is a taboo. One can be mobbed for that. In such places, lavatories are scarce but residents, who do not have them, go inside bushes and dig grounds to excrete and bury their faeces.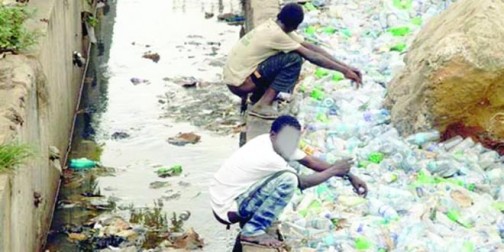 One expected the situation to be better in cities especially Lagos, the Centre of Excellence, but the reverse seems to be the case as open defecation is a daily occurrence in many parts of the commercial centre.
Pressed by the urge to expel faeces from the bowels, some residents of Lagos State often throw caution to the winds and resort to depositing excreta on gutters, canals, roadsides, bushy paths and corners despite the existence of laws and regulations against the practice.
The laws and regulations include Public Health Laws of Lagos State, Environmental Sanitation Regulation, Environmental Sanitation Law, Environmental Management Protection Law and Local Government By-Laws.
The Lagos State Environmental Management Protection Law of 2017 is intended to consolidate all the laws and regulations applicable to the management, protection and sustainable development of Lagos State environment.
Analysts are worried that open defecation in Lagos State has become "fashionable" for some residents including women, who embarrass pedestrians and motorists with this eyesore.
They are more worried that while some perpetrators carry out this practice very early in the morning or at night, many others defecate openly during the day in the full glare of motorists and pedestrians, without expressing shame or guilt.
While some perpetrators of open defecation carry out the "business" without hiding their faces, others conceal their identities with a fez cap or dark sunglasses.
Analyst observe that the areas and roads notorious for the detestable practice include the Lagos-Badagry Expressway being expanded from four to 10 lanes. The road has become easily accessible for defecation by unpatriotic residents, as hardly does one trek or drive up to 100 metres on the road without seeing people stooping on the road median and defecating on the gutters or roadsides.
The fact that some portions of the road are bushy worsens the situation.
From Ijora/Iganmu Flyover near the National Theatre, Iganmu, through Orile to Mile Bus Stop, daily defecation by at least 15 people is a common sight. Piles of faeces are regularly seen on walkways, polluting air for road users.
At the Volkswagen and Barracks areas of Ojo, different volumes of faeces are seen on bushy roadsides, with the stench forcing passersby to cover their nostrils or hold their breath and hurriedly leave the environment.
Some of these excrements are even deposited on tarred roads and under newly constructed bridges.
The Alakija Bridge, Trade Fair Bridge, Abule-Ado, Iyan-Iba, Maza Maza, all on the expressway, and the popular Agboju Bus Stop, which is on the Second Gate of FESTAC Town, are worst hit by open defecation.
A trailer driver in a motor park at Orile, who identified himself simply as "Baba Meta", blames open defecation on irresistible sudden urge to empty the bowels.
Holding a stick of cigarette in his right hand, Baba Meta spoke in Pidgin English: "I no fit die for shit nah. Which toilet you keep for here?"
A trader at the Alaba International Market, Ojo, Mr Emenike Nnoromele, condemns the spate of open defecation in the state.
He is worried that the trend is projecting a bad image of Lagos and Nigeria to visitors.
Emenike urges provision of mobile toilets by governments at strategic places to discourage open defecation.
He advises that the mobile toilets should be affordable.
"In other civilised climes, you find toilets in every bus station to afford citizens the desired comfort when pressed.
"If the state and local governments are able to put in place such a facility, it will reduce the menace; it is suffocating and disgusting," he says.
A nurse, Mrs Patricia Nwachukwu, warns that open defecation is fast defacing Lagos.
She describes it as an environmental pollution, which causes health hazards.
"Open defecation has become so regular among us that you may be standing right on top of faeces while waiting to catch a bus to your workplace.
"There are health consequences which can arise from open deposit of faeces. They include diarrhoea, cholera, typhoid, polio.
"Because the defecation is done in open spaces, whenever it rains, water washes it off into nearby sources of water including rivers, streams and wells, and these are used for drinking and cooking by residents.
"Moreover, flies which are major careers of waterborne diseases, perch on faeces and also perch on food items displayed in markets, which many people consume without proper hygiene" she warns.
According to Nwachukwu, a health walk can be regularly organised by governments to create awareness on the hazards of open defecation.
She also suggests that more sanitation workers can be engaged by governments and communities to serve as watchdogs against open defecation.
"This will keep residents constantly in check," she urges.
An Assistant Director in the Lagos State Ministry of the Environment, Mr Sanusi Mukaila, blames open defecation largely on poor attitude.
According to him, open defecation is common around markets where, he says, there are mobile toilets which are hardly patronised.
"That is to buttress the fact that it is attitudinal," he argues.
According to him, major outlets such as filling stations, shopping malls and eateries are being encouraged to maintain good toilet systems to enable members of the public to utilise them.
The official calls on Lagos residents to change their attitude for the better, saying that every November, there is public sensitisation to the dangers of open defecation.
The General Manager of the Lagos Waste Management Authority, Mr Ola Oresanya, is optimistic that the incoming administration in the state will redress open defecation, which he attributes to somersault of governing policies on the environment.
"There was a time we had structured enforcement to prevent such an act, but there was a review of that law and some institutions were set up to ensure such an act is not committed," he explains.
According to the general manager, the Kick Against Indiscipline is one of such establishments.
"Some of these institutions were restructured; the intent was good, as it was to make them to work better, but the concept was not well "taken in" by those who ought to implement.
"So, there was a gap between government intention and the implementation.
"There was a time open defecation was eradicated in Lagos or reduced to its barest minimum, but right now, it is chaotic; I am sure the new administration will address all these," he hopes.
A Principal Environmental Health Officer in Iba Local Council Developement Area, Mr Abdulrasaq Akande, observes that open defecation is also rampant around homes at Alaba-Rago area of Ojo, where, he says, lacks proper lavatories.
Akande, a former sanitation offence prosecutor, says: "Open defecation is largely due to absence of a lavatory system. In any house where there is no proper toilet system, there is the tendency for its occupiers to look for an alternative system of defecation.
"Some of these residents and their children defecate inside nylon bags and throw them into open spaces and adjourning premises: sometimes, they drop them behind their houses."
Akande also believes that open defecation constitutes health hazards.
According to him, sanctions are being imposed on those caught defecating in open places.
He says once there is a report of open defecation in any premises, prosecutors go and inspect the affected premises and serve the occupants with the requisite notice.
"If after the notice, they are unable to abate the nuisance and provide proper lavatories, they are arrested and prosecuted," he says, adding that the punishment for such nuisance ranges from N5,000 fine in the case of individuals, and between N50,000 and N100,000 in the case of a corporate organisation.
He notes that the laws regulating Lagos environment also spell out sanctions against offenders.
A lawyer, Mr Spurgeon Ataene, believes that adequate housing policies as well as provision of public toilets will drastically reduce open defecation.
"Some of the people who engage in open defecation are mostly `okada' riders, and some of them have no decent abode. Open defecation is simply a result of the homelessness of such individuals," he argues.
According to Ataene, while the environmental protection laws of Lagos State are geared at promoting a healthy environment, it is instructive for the state government to put in place some proactive measures to serve as drivers of the laws.
He listed the measures to include adequate housing policies to ensure affordable houses for the residents, and provision of public toilets.
A social critic, Mr Ogedi Ogu, blames persistence of open defecation on lack of sanctions against perpetrators.
He calls for effective enforcement of the state environmental laws.
"Even from the top of some major bridges in Lagos, you can look down and find people defecating into the water; this is eyesore and should be punished by the relevant authorities," he urges.
Analysts urge collective efforts to end open defecation in Lagos for a healthier environment and good image of the centre of commerce.
By Sandra Umeh, News Agency of Nigeria (NAN)