Suzuki by CFAO Nigeria has collaborated with Solution17 for Climate Action's Trees from Art Initiative to promote tree planting, climate education, and awareness in Lagos State.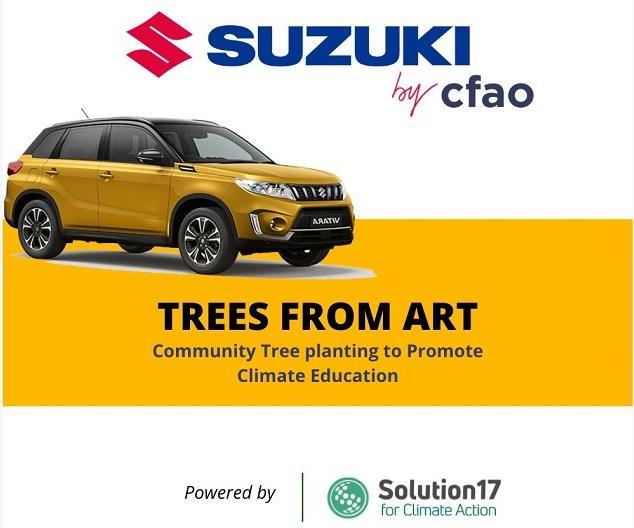 The Suzuki by CFAO One-Tree-One-Car programme began with planting economic trees in Caleb British International School, Lekki. The initiative supports Solution17's goal of planting 10 million trees in Nigeria by 2030. All newly planted trees will be digitally captured with the EcoMatcher App for tracking purposes by Friday, November 4, 2022.
The tree-tracking technology will track tree location, tree facts, and carbon sequestration. It will also help businesses connect customers to their sustainability journey, set up loyalty programs, use trees for employee engagement, rewards, and a transparent carbon offsetting programme.
The management of Caleb International British School has inaugurated the Creative Club50 to facilitate practical training and capacity building. Each club member automatically becomes an EcoChampion, with the assigned role of a Tree Manager, responsible for monitoring and caring for the trees. All beneficiaries would participate in special training on innovation, entrepreneurship, environmental education, art novation, and SDGs.
Mrs. Aissatou Diouf, General Manager of Suzuki, by CFAO Motors, stated that her organisation is delighted to participate in the provision of climate solutions and environmental protection with the Suzuki Tree Planting Programme, dedicated to the planet's sustainability. She also stated that Suzuki customers who purchase cars will be assigned a tree, which can be tracked using the EcoMatcher App.
The CEO and Project Director of Creative Youth Community Development-Solution17, Foluke Michael, expressed her excitement about Suzuki's involvement in protecting the environment whilst leading change in climate education in Nigeria.
"We look forward to seeing every Suzuki car planting a sustainable tree to reduce its carbon footprint and support entrepreneurship in schools whilst advancing low carbon development for Nigeria."
On September 24, 2022, Solution17 launched the Just Act Publication and the Movie Series titled "The Planet in the Eyes of the Youth." Just Act focuses on Climate Campaigns and the Implementation of Practical, Impactful, Technology-driven Action on Climate Change.