A noteable amount of funding has been set aside for Nigeria and other African countries to implement their climate adaptation projects in key areas such as food production, building resilient cities and accelerating renewable energy development.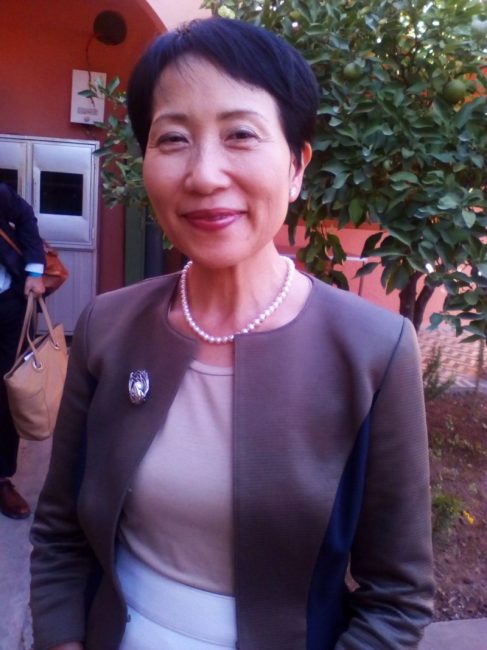 Known as "Opportunity of the Commons", the fund which is managed by the Global Environment Facility (GEF), aims at assisting poor and developing nations to move at the same pace with their developed counterpart in addressing challenges posed by climate change and subsequently ensuring healthy economies.
Chairperson of GEF, Naoko Ishii, said in a presentation on Saturday that the organisation was focusing attention on African countries because of the huge opportunities that abound on the continent.
She spoke during an orientation course for the Internews' Earth Journalism Network (EJN) Fellows to the UN climate talks (COP22) holding in Marrakech, Morocco.
"We support partnerships at local, national and regional levels around integrated solutions in areas like energy efficiency, renewable energy, sustainable cities, land degradation, deforestation, food security and resilience. The newly adopted Sustainable Development Goals (SDGs) recognise that the health of the global commons is essential for a thriving world. A strong climate agreement backed by action on the ground will help us achieve the SDGs. But, with the underlying drivers of degradation still at play, our efforts must only intensify," she said.
According to her, part of the criteria for accessing the investment fund include the execution of projects that add value to the lives of greater majority of the masses and the applying organisation should be the aggregate of major stakeholders in the industry from manufacturers to consumers.
On how to access the foundation, Ishii said the GEF works directly with relevant government agencies and prominent bodies in the private sector. The organisation, which was established on the eve of the 1992 Rio Earth Summit to help tackle the planet's most pressing environmental problems, is said to have provided $14.6 billion in grants and mobilised an additional $74.6 billion in financing for more than 4,000 projects.
"About two thirds of overall GEF financing can be considered climate related. This funding draws on more than the GEF's dedicated climate change mitigation and adaptation funding windows to include a range of investments in forests, land and water, all with significant climate benefits. All in all, the GEF will be able to make about $3 billion in climate finance available during 2014-2018 across the entire spectrum of projects and programmes it is providing funding for."
"The GEF's recent experiences suggest that deployment of targeted, innovative financial instruments has a significant potential for mobilising private finance. Since GEF-5, a suite of 11 of such projects has mobilised $6.3 million from the private sector for each $1 million from a GEF grant, significantly higher than what typical GEF climate change mitigation projects mobilise. A recent example is the GEF's provision of $4.5 million as Class A shares to the $150 million AFDB-led Africa Renewable Equity Fund, which targets small scale renewable energy projects across Africa that will enable investments worth approximately $0.5 billion."
In another presentation, Asher Minns, Head of Communications, Europe Futurearth Research for Global Sustainability, said the total Nationally Determined Contributions (NDCs) by nations required has so far fallen short of meeting the Paris Agreement target as the pledges could only reduce earth warming to about 3 degrees centigrade, as against the 1.5 degrees centigrade proposed by the treaty as minimum temperature to still sustain life on earth. Minns said the way forward was for all nations to aggressively pursue the building of more resilient environment of decarbonisation.
Fifteen EJN fellows from developing countries were trained on the effective coverage of the COP22 in Morocco. A team of EJN staff, led by James Fahn (who heads the EJN), coordinated the orientation training.
By Innocent Onoh