Hundreds of thousands of young people left their classrooms and filled the streets on Friday, March 15, 2019 to demand real climate action, only two days after the release of new research by UN Environment warning that devastating temperature rises in the Arctic might now be inevitable.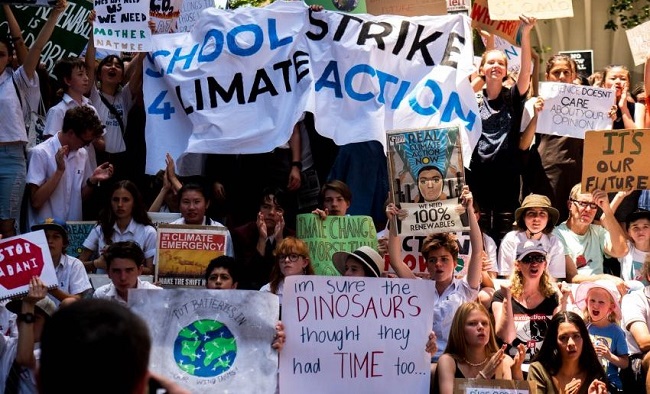 The students engaged in an inspirational wave of activism across the world, striking for action on climate change in more than 2050 places in 123 countries across the world including South Africa, Namibia, Madagascar, Kenya, Tanzania, Senegal, Ghana, Nigeria, and even Antarctica.
As dramatic climate change impacts hit communities all over the world – from tropical cyclones and floods in Africa to typhoons in the Pacific and violent wildfires caused by hotter winter days taking over Britain – the School Strikes for Climate posed adults a crucial question: will you use your power to address the climate crisis now?
In response, Greenpeace Africa said: "As an environmental campaigning organisation, Greenpeace Africa is humbled and inspired by the thousands upon thousands of school children coming out today to demand action on the climate crisis. The global climate movement is reaching new heights today, with youth at the centre. They clearly understand that climate change is a threat to their opportunities and future. Our youth are sick and tired of excuses and want to see bold action to avoid catastrophic climate change. The question is: how can governments possibly ignore their call?
"Greenpeace Africa fully supports the school strikes for the climate and asks governments across Africa to come up with climate actions that are clearly in line with the Paris climate agreement. We do not have any time to waste."
May Boeve, 350.org Executive Director, said: "Young people from all corners of the globe are laying bare a truth that many of us have been too scared to tell ourselves: that the climate crisis is so urgent that half-measures will no-longer abide. And that this crisis is being driven by some of us adults – those who want to continue profiting from fossil fuel extraction and business as usual."
"Where the authorities fail, people have only one choice: to lead. We are seeing that today in over 2000 strikes for the climate in more than 120 countries across the world."
The UN Environment report, released in Nairobi on Wednesday, estimates that winter temperatures at the North Pole are likely to rise by at least 3oC above pre-industrial levels by 2050, and that even if global emissions were to halt overnight, winter temperatures in the Arctic would still increase 4°C to 5°C by 2100 compared to the late 20th century.
Boeve stated: "This latest report solidifies the evidence of what we already know: only concrete actions to shift off coal, oil, and gas immediately can keep us safe from the worst effects of global warming.
"We have very little time to act to free our world from fossil fuels, and build a more equitable and safe future for all. Young people have already realized this. But what about us adults? We must listen to their demands and use our power, as the grown-ups in the room, to change things."