The Environmental/Friends of the Earth Nigeria (ERA/FoEN) has demanded a Federal Government probe of explosions caused by Nigerian Agip Oil Company (NAOC) operations in several communities in Bayelsa State where the company has facilities. The group is also calling on government to revoke the company's operational license.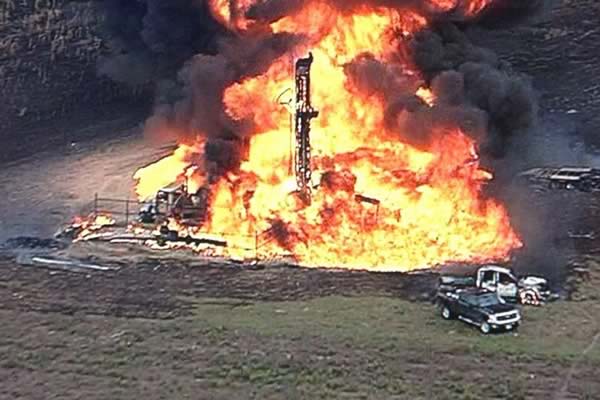 According to ERA/FoEN, explosions from Agip pipelines and resultant deaths were recorded since 1995 and have escalated in the last three years, with the latest incident in Azuzuama in Bassan Clan, Southern Ijaw Local Government Area (LGA) on 9 July 2015 which claimed the lives of 14 persons.
ERA/FoEN through its field monitors verified that the 14 persons died along Agip's Tebidabe-Clough Creek pipeline at a damaged section of the pipeline during a Joint Investigation Visit (JIV) while several others received burns. The first major tragedy by the company recorded by ERA/FoEN was at Ozochi in June 1995.
The incident claimed seven workers attempting to clear a major spill at its facility, disclosed the ERA/FoEN spokesman, Philip Jakpor, in a statement on Monday. According to him, the victims were roasted while clearing oil spills with spade and bucket.
"DAEWOO got the contract for the cleanup but contracted youths from Ozochi without any training and proper clean up kits to dig pits which they transferred the crude oil into in order to set it ablaze later. An ensuing inferno claimed five of them in addition to the destruction of the environment, farmlands and biodiversity," Jakpor stated.
He added that, in 2000, 18 youths died in a tragic incident which occurred in Etieama community in Nembe Local Government Area LGA during a clamping operation on a ruptured section of NAOC's Brass-Ogoda pipeline. The incident, he stressed, was caused by spark from a machine used during the clamping.
"On Sunday, 29th July, 2012 a similar incident happened along Agip pipeline within Ayamabele/Kalaba community environment, in Okordia clan, Yenagoa LGA. Sixteen individuals were lucky to have escaped when a fire was ignited in the process of the cleanup."
ERA/FoEN Executive Director, Godwin Uyi Ojo, said: "A clear pattern of ecocide has been observed in in the Niger Delta. The incident in Azuzuama is yet another sad episode from NAOC operations as the testimonies from bereaved families and officials of the Bayelsa State Ministry of Environment indicate."
Demanding the revocation of Agip's operating license, Ojo explained that a consistent trend of explosions leading to needless deaths have trailed the company's operations hence the need for the Federal and state government to set up an investigative panel to review its operations as well as its spill contingency plan and protocols, which have so far put production and profit at the fore and left safety at the back seat.
"Government should ensure that Agip complies with international standards in oil pipeline clamping and procedures which must also guarantee the safety of workers, regulators, and the communities.
He insisted that Agip must be brought to book following the equipment failure and substandard mode of clamping and procedures in addition to adequately compensating the bereaved families including victims of the Ozochi tragedy.
Government must also ensure only competent firms are engaged as contractors to carry out clamping jobs that require high levels of professionalism.
Ojo said that while a price cannot be placed on the loss of human life, Agip must compensate each family with the sum of $2 million.
"Beyond the investigation, Agip must provide public response to the fire explosion incidents, conduct immediate clean up and environmental remediation and compensation for destroyed livelihoods. Enough is enough on this systematic decimation of the lives and environment of our people," Ojo stressed.