Sterling One Foundation and its partners on Monday, June 5, 2023, called for collaborative action to end plastic pollution in the country.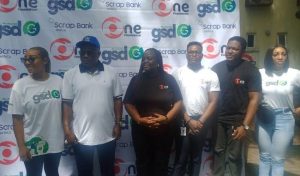 Mrs Olapeju Ibekwe, Chief Executive Officer (CEO) of the foundation, stated this at an event to mark World Environment Day (WED) in Lagos.
Ibekwe said that the 2023 WED, spearheaded  by the United Nations Environment Programme (UNEP), had become the largest global platform for environmental outreach, raising awareness and inspiring action for the preservation of our planet.
She said that the theme of the 2023 WED was focused on Solutions to Plastic Pollution, which resonated deeply with the Foundation and its partners.
According to her, plastic pollution has emerged as one of the most pressing environmental challenges of our time, posing a threat to our ecosystems, wildlife, and even human health.
"It is imperative that we accelerate our efforts and transition to a circular economy, where plastics are used responsibly, recycled, and repurposed.
"To address this urgent issue, Sterling One Foundation, in collaboration with Green Space Depot and the support of Lagos State Waste Management Agency (LAWMA), organised a community clean up.
"This initiative seeks to mobilise our community, empower individuals, and foster a sense of collective responsibility in combating plastic pollution.
"But today, I want to introduce to you an innovative idea that can truly make a difference in our battle against plastic pollution, the concept of buybacks," Ibekwe said.
She said that by implementing a buyback system, we could incentivise individuals, communities, and businesses to collect and return plastic waste, ensuring its proper disposal and recycling.
The CEO said that the innovative idea aims to create a circular economy, where plastic materials are continuously recycled and repurposed, reducing the need for new plastic production and minimising the environmental impact.
"Imagine a world where every discarded plastic bottle, every single-use plastic item, holds value beyond its initial use.
"A world where individuals are motivated to collect and return plastic waste, not only for the financial rewards but also for the positive impact it has on our environment.
"Through buyback programmes, we can create a circular economy, where plastic waste is no longer seen as disposable but as a valuable resource.
"By establishing collection centres, partnering with local communities, and working closely with recycling facilities, we can ensure that plastic waste is diverted from landfills and given a second life through recycling and repurposing," Ibekwe said.
She said that Sterling One Foundation has long been at the forefront of climate action initiatives, from beach cleanups to climate education programs for secondary school students.
She said that through the unveiling of climate action superheroes, media dialogues, and the Sterling One Foundation Agroforestry for Climate Action Project (SACAP), the foundation have demonstrated its unwavering commitment to combating climate change and its detrimental effects.
"Today, as we gather here, we reaffirm our dedication to restoring degraded wetlands, collecting plastic waste, and educating our youth on the importance of climate action.
"We have witnessed the power of collaboration, of bringing together passionate individuals and organizations to tackle complex environmental challenges.
"Together, we can build a more sustainable future for ourselves and future generations," Ibekwe said.
By Fabian Ekeruche