Some stakeholders on Thursday, July 27, 2023, said that Nigeria and corporates should reshape thoughts and actions and align future investment practices with the Environmental, Social and Governance (ESG) considerations.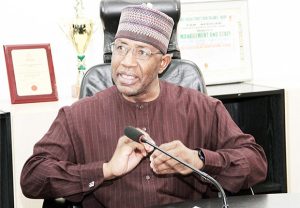 The stakeholders expressed the view at a workshop on: "ESG and Sustainable Finance – The Future of Investments".
The workshop was organised in Lagos by the Securities and Exchange Commission (SEC) in collaboration with Financial Centre for Sustainabilities, Lagos.
The stakeholders said that the global community had adopted ESG, urging that Nigeria should not be left behind.
The Director-General of SEC, Mr Lamido Yuguda, noted the world had found itself at a critical juncture with the devastating impact of climate change, inequality, conflict and insecurity, among others.
Yuguda said that the situation called for responsible corporate behaviour to reshape thoughts and actions around the future of investment practices to ensure that they would align with ESG considerations.
"All stakeholders desirous of a better future for themselves, their businesses and their communities should fully support every effort to build an economy that encourages sustainable business practices," he said.
Yuguda said that the revised Nigerian Capital Market Masterplan strongly underlined the need to create awareness and actively deploy educational and advocacy campaigns to promote ESG-compliant products.
He urged stakeholders and market operators on ESG-compliant products to expand product offerings and provide more long-term financing for businesses while protecting the environment, reducing inequality, promoting security and fostering national economic prosperity.
"This initiative has been identified to be of priority, demanding immediate implementation, and this is one of the Securities and Exchange Commission's principal reasons for organising this workshop, in collaboration with our co-host, the Financial Centre for Sustainability (FC4S)," he said.
According to him, sustainable finance integrates ESG factors into investment decisions, seeking long-term economic and social benefits for both stakeholders and the society.
"It is, therefore, heartening to witness a growing number of institutional investors and funds embracing various ESG investing approaches in recognition of the potential positive impact on individuals, businesses and society.
"At the global level, we are also witnessing an encouraging trend of sustainability-themed funds gaining prominence, especially in developed markets.
"This is quite significant, as it signposts a rising global adoption of sustainability criteria within the investment community – a situation, we believe, is not unconnected with the strong correlation that has been demonstrated between ESG compliance and financial performance.
"It is a well-known fact that Nigeria has the opportunity to drive positive changes through the focused promotion of ESG and sustainable finance in our financial markets," Yuguda said.
Dr Franklin Ngwu, Director, Lagos Business School Public Sector Initiative, said that ESG was the way to go globally, urging that Nigeria should join the community.
Ngwu urged companies to embrace ESG, saying that funds were sourced cheaper for ESG-compliant firms.
He also stressed the need for Nigeria and companies to embrace ESG principles and guidelines for economic growth and development.
Ngwu urged the Federal Government to support ESG matters and embrace its principles as well as partner the private sector to ensure its sustainability.
According to him, enhanced advocacy and reward to ESG-complaint firms will motivate corporates to embrace the initiative.
"ESG is all about our future and sustainability," Ngwu said.
Mr Adrian Mill, the Managing Director of Environmental and Social Sustainability (ESS), urged Nigerian companies to integrate reducing climate change risk in their activities.
Mill said that ESG should be part of every company because it was trending worldwide.
He said Nigerian investors should be empowered enough and educated to take ESG investments.
Mill also called for training of people on ESG to ensure sustainability.
Dr Mo' Omamegbe, Head of Strategy at Securities and Exchange Commission,
said Nigeria must build local experts on ESG and ensure awareness creation through trainings, workshops and road shows, among other methods.
By Chinyere Joel-Nwokeoma