Civil society and grassroots groups that participated in a stakeholder dialogue on the Lagos water crisis have demanded that Governor Babajide Sanwo-Olu shun the privatisation path of his predecessors and manage water in the public realm.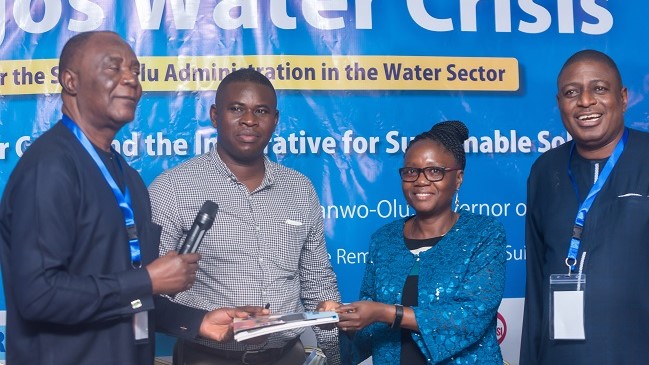 The groups made the call on Tuesday, October 8, 2019 at a dialogue organised by the Environmental Rights Action/Friends of the Earth Nigeria (ERA/FoEN) in conjunction with Corporate Accountability, Public Services International (PSI), Transnational Institute, and the Amalgamated Union of Public Corporations, Civil Service, Technical and Recreational Services Employees (AUPCTRE).
Some of the participants included pro-democracy activist, Femi Aborishade, Achike Chude of Joint Action Front (JAF) and communities across Lagos without access to water.
Participants advanced solutions to the Lagos water crisis; deliberated on how to engage the Lagos government at the top level on solutions to the water crisis; and how to strengthen the power of the "Our Water, Our Right Coalition".
They examined the status of access to water in Lagos, the role of the World Bank and multinational corporations in failed water projects, the myth that the Public Private Partnership (PPP) model represents, the rights-based approach to sustainable management of water resources and how to promote affordable public access to water in Lagos.
The welcome address by Chair of the Board of ERA/FoEN, Nnimmo Bassey, was delivered by Deputy Executive Director, Akinbode Oluwafemi, while the keynote address titled "The Lagos Water Crisis and the Imperative for Sustainable Solutions" was delivered by Dr. Hussaini Abdu, Country Director of Plan International Nigeria.
Hussaini's intervention dwelt on the human right to water which he said, entitles everyone without discrimination to sufficient, safe, acceptable, physically accessible and affordable water for personal and domestic use. This covers water for drinking, personal sanitation, washing of clothes, food preparation, and personal and household hygiene.
He explained that during much of the 1990s, water utilities worldwide experienced a wave of privatization, adding that Lagos state with the support of the World Bank is one of the first states to have experimented with the idea barely a few years after Nigeria adopted the Structural Adjustment Programme (SAP) under the Badamasi Babangida military junta.
He concluded that privatisation has largely failed across the globe and that citizens must be part of the solutions since International Financial Institutions have never addressed municipal challenges.
"Urban governance and policy must be people driven. When people are part of policy making process, they own the policies, protect and sustain these policies. When policies are imposed on them, they reject and undermine them," he insisted.
Following deliberations and contributions in panel sessions, participants observed thus:
The Lagos government continues to demonstrate an unacceptable abdication of responsibility by its failure to embrace public sector solutions to address the yawning gap in access to water and rejuvenating the ailing water sector.
The corporate takeover of water in Lagos and other cities across Africa is a new form of colonialism now strangulating the African continent.
The recommendations by the Our Water Our Right coalition in the way forward document – Lagos Water Crisis: Alternative Roadmap for the Water Sector have not been engaged with seriously or even responded to.
Reports of massive corruption in the water sector across the states and at the national level are alarming and are yet to be probed.
It is observed that the funding gap in the water sector is due to the vested interests and lack of political will, not a lack of resources. For example, Lagos State, which is believed to generate nearly N60 billion monthly and claims to not have sufficient funds to improve the state water system under the Mr. Akinwunmi Amobode administration in 2017 allocated N1.6 billion for rehabilitation its 48 mini and micro waterworks. Unfortunately, an investigative report published last week in New Diplomat Newspaper found out the funds were largely diverted to private pockets because the contract award and implementation did not follow due process.
In decision-making in relation to water, local communities are not consulted, and their input not sought. Women's voices and the voices of other vulnerable groups are subjugated and not accorded priority. They are equally at the receiving end of water shortages and inaccessibility.
Budgetary allocation to the water sector is still abysmally low and does not reflect the much talked about commitment of the government to address the challenges to access
It was therefore agreed that:
The new administration of Babajide Sanwo-Olu accede to the demands of the Our Water Our Right movement that it jettison privatization, including successive administrations PPP addiction, and build the political will to fulfill the human right to water through the public sector.
A probe of all loans and funding for the existing water system and infrastructure in Lagos State throughout the tenures of the Governors Babatunde Fashola and Akinwunmi Ambode, including the N1.6 billion made available to the Lagos Water Corporation (LWC) in 2017 for rehabilitation of mini and micro waterworks across the state
Lagos government reject all advisory contracts, PPP and privatisation success myths promoted by the World Bank, International Finance Corporation and other multinational donor agencies
The Lagos government adopts proven public solutions in the water sector including the Public ion Partnership model and a National Water Trust Fund, as outlined in the way forward document – Lagos Water Crisis: Alternative Roadmap for Water Sector.
Communities at the grassroots level, including Community Development Associations (CDAs), women and vulnerable groups be fully integrated into mainstream plans by the Lagos government to resolve the state's water crisis.
The Freedom of Information Act (FOIA) be utilised in the public demand of information on funds sourced and approved for public water projects in the last three decades.
Adequate budgetary allocation to the water sector which allows for transparency and accountability in the use of such funds