Efforts to scale up domestic production of clean cooking solutions in Nigeria commences on Tuesday, November 28, 2017 in Abuja, courtesy of an initiative involving the Federal Ministry of Environment and the Nigerian Alliance for Clean Cookstoves.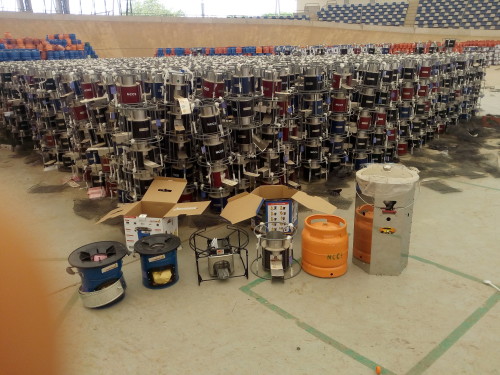 The endeavour will be kicked-off at the 2017 edition of the Nigeria Clean Cooking Forum, described as a landmark, annual gathering of government, professionals and entrepreneurs working to accelerate the production, deployment, and use of cleaner, more efficient cookstoves and fuels.
This year's forum, according to a statement made available to EnviroNews, will support government efforts to scale up domestic production of clean cooking solutions in the country as well as contribute to meeting the country's obligation to the Nationally Determined Contributions (NDCs). The event brings together over 200 participants including key policymakers, private sector leaders, foundations, research institutions, women's groups and civil society stakeholders as well as international partners to discuss and proffer actionable steps towards scaling up domestic production of clean cooking solutions in Nigeria.
The statement discloses: "Research has confirmed that smoke from the traditional use of firewood is estimated to cause 95,000 deaths annually in Nigeria. After malaria and HIV/AIDS
, this would be Nigeria's third highest killer mostly of who are women and children. Women and the girl child walk long distances and spend hours a week in search of firewood. This also contributes significantly to deforestation as well as the attendant consequences of climate change.
"Clean cooking will save lives, empower women, improve livelihood and combat climate change.  It is a priority area in energy access that is central in achieving the goals of NDCs and Sustainable Energy for All (SE4ALL) Initiative in Nigeria. Clean cooking energy for all is not only possible but a right for the Nigerian citizens. The domestic market for clean cooking solutions must be developed through innovative partnership and support, thereby the government and private sectors needs to stimulate the market for 'Made in Nigeria' clean cookstoves."
Minister of State for Environment, Ibrahim Usman Jibril, will formally open the event; while Senate President, Abubakar Bukola Saraki, will deliver the keynote address.
The forum's sessions cover:
Strengthening the LPG market through public awareness for domestic consumption
Financing for clean cookstoves in Nigeria and expanding the market for clean cookstoves through standards and labeling.
According to the organisers, implementers of clean cooking solutions in the country will at the event share experiences, including challenges and lessons learnt. A session on Safe Access to Fuels and Energy (SAFE) will wrap up the forum, which will showcase a variety of clean cooking solutions.