An NGO, Urban Alert, and other stakeholders in environmental sector on Friday, September 2, 2022, expressed concern over the pollution of Osun River by artisanal miners.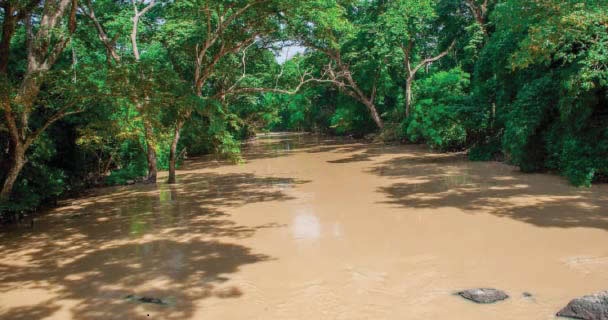 They raised the alarm during a one day multi-stakeholders meeting tagged "Protecting Osun River", organised by Urban Alert, in collaboration with an NGO, Conflict Free State, in Osogbo.
The stakeholders said the pollution of the river was a threat to the lives of the people of the state.
The Executive Director of the NGO, Mr Anthony Adejuwon, said a geographical information analysis and laboratory test carried out by the organisation revealed that the river had been contaminated with mercury, lead, cyanide and other elements that are injurious to human health.
Adejuwon said that the purpose of the meeting was for stakeholders to deliberate on the effects of the pollution on the lives of the people and the way out.
He said that the pollution of the river had created sociocultural and economical problems, as well as destroyed aquatic animals.
He said that the pollution has put the lives of over two million of Osun residents in danger and also desecrated the sacred Osun grove.
He called on the state and federal governments as well as private organisations to synergise on how to prevent further damage to the river.
The Federal Mining Officer in charge of Osun State, Mr Ojediran Abimbola, said the Federal Government was making efforts to collaborate with relevant stakeholders to put an end to the activities of illegal miners.
Abimbola urged village heads to partner with security personnel and other relevant agencies in curbing illegal mining activities in the state.
Also, Mr Abiola Oni, the Director of Environmental Health, Ministry of Health, Osun, said there was urgent need for concerned stakeholders to find a lasting solution to the pollution of the river.
Oni noted that the Osun Environmental Protection Act prohibited the activities of illegal miners in the state.
"The government has been able to identify some key areas where the problems are coming from and appropriate steps are being taking," he said.
Mr Muhammed Shukwuweinzu, the State Coordinator of National Environmental Standards and Regulations Enforcement Agency (NESREA), said the agency had taken steps in ensuring that mining activities are regulated.
Shukwuweinzu commended the Federal Government and other key state actors for paying attention to Osun River, which is a world heritage site for tourists.
Also, a traditionalist, Chief Olalekan Atanda, urged government to create a special task force to tackle the activities of the illegal miners.
The Osun State Government, during the annual Osun-Osgobo festival, advised tourists, devotees and visitors not to drink water from Osun River because of pollution.
In spite of the state government's warning, many devotees and visitors drank from the river during the grand finale of the festival on Aug. 12.
By Joshua Oladipo