Stakeholders in Water Resources Management have begun a workshop in Abuja to address some of the challenges women faced in accessing potable water.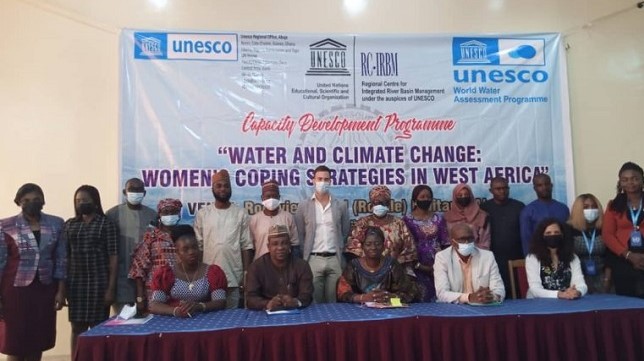 The workshop was organised by the Regional Centre for Integrated River Basin Management (RC-IRBM), in collaboration with the United Nations Educational Scientific and Cultural Organisation (UNESCO) World Water Assessment Programme.
The workshop, scheduled for two days, was tagged: "Capacity development workshop non water, gender and climate change in West Africa: Better data for better adaptation strategies".
At the opening session of the programme on Wednesday, October 27, 2021, the Minister of Water Resources, Suleiman Adamu, noted that there was need to make water available in large quantities because of women.
Represented by Mrs Alice Ojowu, Director, Water Resources Planning and Technical Support Services in the, ministry, the minister noted that women and girls were responsible for water collection in 80 percent of households.
As such, there was need to make available safe drinking water, adequate sanitation and hygiene facilities at home and work places, especially for the benefit of the women, Adamu said.
He disclosed that reducing the population with limited drinking water services has a strong gender impact, and that the presence or absence of sufficient water had a disproportionate effect on the lives of women and girls.
"Women and girls usually bear the responsibility for collecting water, which is often very time-consuming and arduous.
"Women and girls are more vulnerable to abuse and attack while walking or using toilet or on open defecation site. Women have specific hygiene needs during menstruation, pregnancy and child rearing.
"The impacts of climate change and health related issues can further aggravate the already pitiable situation.
"Therefore, sustainable water solutions, whether at the local, regional or global levels, involving creativity, new scientific knowledge, discoveries and innovations that adopt gender sensitive approaches are crucial to attaining water and sanitation for all.
"In the face of COVID-19 pandemic, women and girls seem to be more at risk of infection, the task ahead of them do not allow them to adhere to physical distancing, while access to water related services maybe subject to additional restrictions," he said.
Adamu, therefore, called on the stakeholders to ensure successful deliberations, so as to reduce the burden of water scarcity for women in the household.
In his address of welcome, Dr Dimitri Sanga, UNESCO Dakar Regional Office and OIC Abuja Regional Office, noted that the capacity development for stakeholders started in 2020.
Sanga, who was represented by Dr Lamine Sow, Senior Programme Specialist, UNESCO Regional Office, Abuja, stated that addressing gender issues required gender responsive data that would help in decision making.
He said that this was necessary to adopt actions that were in line with best practice, as well as advancing gender equality which is critical to meeting the 2030 agenda for sustainable development.
Sanga also said that strengthening gender equality in water management can further strengthen social inclusion, improve environmental sustainability and ensure food security on a global scale.
According to him, the case study developed by the stakeholders that would be presented before the end of the workshop would be compiled in a publication, to facilitate information sharing and the lessons.
He appreciated the water resources minister for his overwhelming support to the stakeholders, as well as the Permanent Secretary of the Ministry, Mrs Esther Walson-Jack.
Sanga also commended the support of the Director General of the National Water Resources Institute (NWRI), Kaduna, Prof Emmanuel Àdánù and the Director of UNESCO category 2 Centre.
He called on all the stakeholders to make the best use of the workshop to acquire knowledge that would spur the progress of their work.
On his part, the Director General of (NWRI), Àdánù, stated that Nigeria was now doing very well in having access to clean water and sanitation right from the time President Buhari declared a state of emergency on water and sanitation.
Àdánù noted that the role of the minister of water resources and his team in the fight to ensure that the sustainable development goals were met was commendable, noting that the fight against open defecation were all geared towards making Nigerians have access to world class sanitation.
He called on Nigerians to take responsibility for the protection of government infrastructures in the various states and local government, to make Nigeria better for all.
By Aderogba George