From Pangolin to Forest Elephants, Lion, Cross River Gorilla, Manatees and other endangered species, Nigeria's wildlife resources are under intense pressure. Over the past few years, there has been a very active market for ivories and other wildlife products – both domestically and internationally, even with the fast-decimating population of these resources.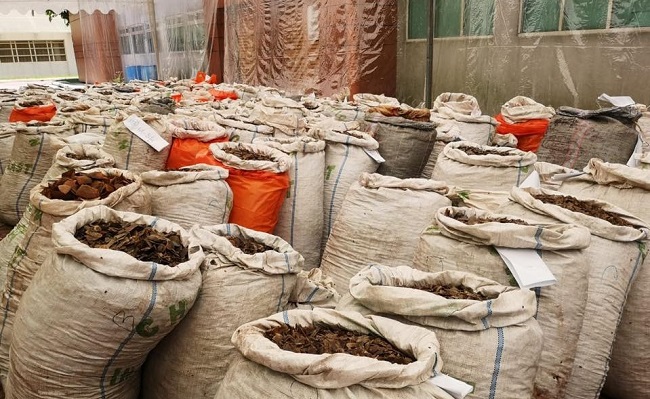 Stakeholders have again assessed the situation of illegal wildlife trade and discuss ways to address this unfortunate trend that is great disintegrating a central component of the environment.
The Deputy British High Commissioner, Peter Thomas, at a reception held on Thursday, October 14, 2021 in Abuja, reaffirmed the British Government's willingness to help address illegal wildlife trade in Nigeria.
"Wildlife conservation can be a big part of Nigeria's economy with huge tourism potentials, Kenya is an example of an African country getting it right – wildlife conservation is a big part of their economy," said Mr. Thomas in a conversation with some environmental stakeholders.
He added: "The best way to approach it is to look at it as a soft power opportunity, a conservation issue – linked to COP26 and also linked to illegal organised crimes. Those at the centre of illegal wildlife trade aren't mainly Nigerians. They are only exploiting the resources because of corruption lapses and thus tarnishing the image of the country (Nigeria).
"The UK is here to help and we will keep doing our bit. Some international communities and NGOs are now looking at setting up regional chapters in Lagos to cover West Africa. There is some sort of cooperation between the government of Nigeria, the UK, the US, Vietnam and China to address the issues. At the government level, China knows that illegal wildlife trade is killing their reputation and there are trying to redeem their image."
Andrew Dunn, the Country Director of Wildlife Conservation Society, reeled over the challenges he has faced in his organisation's work to save endangered species in their local habitat.
Sighting an example, Dunn explained that "West African Lions are critically endangered in Nigeria but if we protect their habitats, the animals can multiply. We also have unique experiences in protecting the endangered Cross River Gorilla, Lion, Chimpanzees, and Elephants. We have some level of cooperation with state governments and, at the federal level, with the Federal Ministry of Environment."
Dunn also lamented that there is a lot of illegal wildlife trade between Cameroon and Nigeria, especially in Adamawa and Cross River states. "One of the projects we are working on now is to carry out an inventory of Nigeria's ivory stockpiles. The Wildlife Conservation Society Nigeria is currently drafting a National Elephant Action Plan."
It is a common narration that Nigeria is a transit hub for many illegal wildlife trade activities because of its weak laws and poor regulation of the existing ones. According to a UNODC's World Wildlife Crime Report (WWCR) 2020, "in 2019 alone, at least 51 tons of pangolin scales seized globally originated from Nigerian ports, compared to only 2 tons in 2015. More than half of all seizures of pangolin scales worldwide could be traced back to Nigeria in 2019."
To curtail illegal wildlife trade activities in Nigeria, the Head of the Nigerian Conservation Foundation and a Senior Conservation Manager, Mohammed Garba Boyi, stressed the need for increased awareness-raising on the ills of wildlife trading.
He explained that the Nigerian Conservation Foundation is working with CITES – the Convention on International Trade in Endangered Species of Wild Fauna and Flora – to address the illegal wildlife trade in Nigeria. Mr. Boyi also called for the laws protecting wildlife in Nigeria to be reviewed.
He said: "Our wildlife laws are so loose and there is a need to review them. Imagine a case where the law only requires a fine of N100,000 from someone who has poached an Elephant that is valued at over $20,000 in the illegal wildlife trade market? Such poacher will happily pay the fine and walk back into the forest looking to kill more Elephants. It is not just about reviewing the law or slightly increasing the fine attached. There is a need for the law to strongly criminalise the act of poaching."
Present also were Prof. Rebecca Nnada, a lecturer at the University of Abuja; Mrs. Perpetual Agbo of the Wildlife Africa Conservation Initiative; Mr. Mohammed Bello, a pastoralist in Taraba State; Mr. Mohammed Ibrahim from Global Rights; Seyifunmi Adebote, an environmentalist/Host of the Climate Talk Podcast; and Adesuwa Obasuyi, the Climate Change Policy Director at the British High Commission in Abuja.
By 'Seyifunmi Adebote, Abuja
This story was produced under the NAREP Climate Change Media 2021 fellowship of the Premium Times Centre for Investigative Journalism