Stakeholders participating in the National Summit on the Human Right to Water in Abuja on Wednesday, January 30, 2019 called for massive investment in water infrastructure by African governments.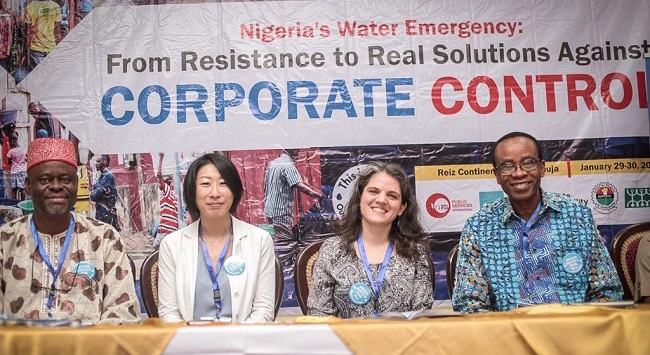 The advice, contained in a communiqué issued in Abuja at the end of the summit by the Secretary, Communiqué Committee, Mr Jakpor Philip, disclosed that this would make clean public water available and accessible to the citizens.
The summit was organised by the Environmental Rights Action/Friends of the Earth Nigeria, an NGO, with the theme: "Nigeria's Water Emergency: From Resistance to Real Solutions against Corporate Control".
The communiqué said that African governments should invest in public infrastructure and embrace democratic, participatory and transparent management of water investments.
The communiqué underscored the need for comprehensive data on both water infrastructure investment and access to aid planning for now and the future.
It also called for the review of National Water Policy to make it mandatory for all states to collaborate with local governments to ensure adequate funding for water facilities resuscitation.
"The Nigerian government and governments in Africa should reject privatisation projects designed by the World Bank and its corporate partners, including the Public Private Partnership (PPP) success-myth that it is aggressively marketing in developing and poor countries.
"Relevant anti-graft agencies should probe all PPP projects, loans and funding for the existing water system and infrastructure nationwide.
"The Freedom of Information Act (FOI) should be utilised in the public demand of information on funds sourced and approved for public water projects in the last three decades.
"There should be a national agenda for the human right to water, starting with a robust national campaign to demand for a bill that protects against privatisation of water infrastructure."
The communiqué added that the bill would advance the human right to water.
"Governments in Africa embrace democratic decision-making in addressing water shortages. Women and vulnerable groups should be accorded priority in plans to guarantee access.
"The importance of women's leadership was shown as vital to the success of this movement.
"Participants agreed wholeheartedly that women's leadership shall continue to be sustained and bolstered to achieve future victories," it added.
According to the communiqué, communities at the grassroots level, including Community Development Associations should be fully integrated into campaigns on the human right to water.
By Deji Abdulwahab