Stakeholders across the states in the South-West zone have called for collaboration between relevant government authorities and the public to tackle the menace of perennial flooding.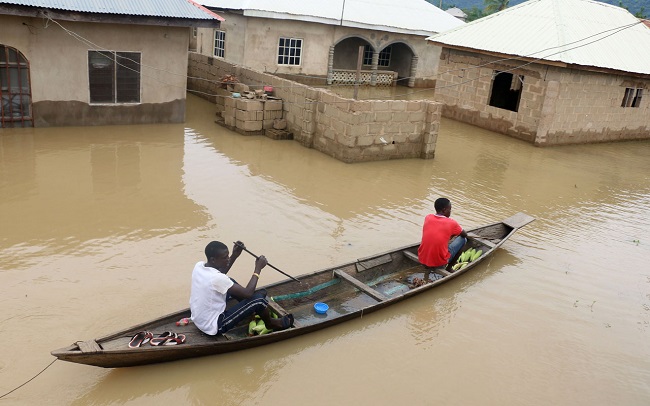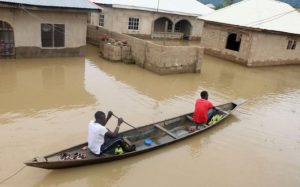 In a survey conducted in Ibadan, Akure, Ilorin, Osogbo, Abeokuta and Ado-Ekiti, they called for full enforcement of the existing Environmental Laws in their respect state toward addressing the menace.
Contributing, Dr Ibrahim Oyediran, an Associate Professor of Geology from the University of Ibadan, said that relevant authorities in Oyo State must rise up to their responsibilities to check the threat of flooding in the state.
Oyediran said that with the rain becoming more frequent, coupled with the wrong treatment of waterways by residents, concerned agencies and ministries must wake up to prevent flooding as an inevitable consequence.
According to him, the people, regrettably, no longer abide by the original laid down plans of town planners and other professionals in rural and urban development.
"For instance, while town planners or rural and urban developers marked out water channels, from where roads and houses can be built, the reality is that there is no enforcement of these original plans.
"Hence, people built all sorts of structures on the waterways or channels, thereby causing flood.
"Also, when water rises above the sea level, and there is no provision or place for the discharge of excesses, there will be flooding.
"In this situation, government should build more dams to cater for this purpose," he said.
Oyediran said that geologists must be carried along in the process of rural and urban planning.
According to him, geologists will provide professional advice on areas that are prone to flooding, proper silting of refuse dump and other geological information necessary.
"Generally, the major cause of flooding in Nigeria is improper waste disposal or refuse dumping.
"Once rain start falling in many communities, people start throwing all sorts of waste into the drainages, which when blocked the channels and water will not be able to flow, finding another channel for itself; which is flooding," he said.
Oyediran, therefore, called for proper waste collection, monitoring of waste dumping and total enforcement of town planning rules.
Also, the Oyo State Government, through an official from the state Ministry of Environment and Natural Resource, who pleaded anonymity, reiterated its commitment to the prevention of flood disaster in every part of the state.
The official said that the present administration had always been responsive to all issues, especially those related to the safety of lives and property.
The state government, the official said, had been involved in dredging of rivers, streams and waterways to enhance free flow of water during down pour.
"The activities of Ibadan Urban Flood Management Project (IUFMP) have also been of great help," the official said.
The IUFMP, set up by the state government with the funding support of the World Bank, provides fundamental and far reaching solutions to perennial and incessant flooding in Ibadan and its environs.
The ministry, in partnership with relevant agencies, has intensified sensitisation efforts across the state on the need to imbibe anti-flooding habits, such as the stoppage of indiscriminate dumping of refuse on waterways.
A task force in the waste management board would soon begin to arrest and prosecute violators of sanitation laws and regulations, in addition to destroying structures erected on waterways.
Commenting, Dr Gloria Ujor, the Director of Nigeria Environmental Study Action Team (NEST), said that seasonal flooding occur in Nigeria when the rainy season reaches its peak.
"At the onset of rain, we do not have as much quantity of water, but as the rain picks up, that is when we hear about flooding," she said.
Ujor attributed the menace of seasonal flooding, especially in recent years, to human activities like poor infrastructural development, poor waste disposal and farming.
"There are many causative factors of seasonal flooding in Nigeria.
"These factors include increased rainfall, land use, poor drainage system, poor waste disposal and decaying infrastructure.
"Although, there are natural causes of flooding, however, in Nigeria, seasonal flooding is often man-made.
"Every year, the Nigerian Meteorological Agency (NIMET) gives alert on what to expect during the rainy season, but nobody pays attention to the warning.
"We experience seasonal flooding, because things are not done properly .
"Our river channels are not managed and allowed to flow in their natural courses.
"Poorly situated infrastructure, which block waterways, also contribute to the problem of seasonal flooding in Nigeria.
"There is lack of awareness and public sensitisation on best practices, especially during the rainy season," she said.
Ujor called for the enforcement of policies that could help in reducing flooding.
"We have good policies, but the enforcement of such policies is not strong.
"Education is very important to inform and caution people about the dangers of floods, what causes floods, and what can be done to minimise its impact.
"Seasonal floods can be prevented with proper planning and adoption of effective mitigation measures, particularly in areas prone to flooding.
"It is also important that people acquire permission before buildings are erected to ensure that waterways are not blocked," she said.
In her remarks, an environmentalist, Mrs Titilayo Toye, called on the government to embark on aggressive campaign against indiscriminate dumping of refuse.
"Poor waste management constitute a growing menace, especially in the urban areas and this, consequently, result in blocked drainages.
"There is a need to educate members of the public and sensitise them on the dangers of their wrong practices of waste disposal," Toye said.
According to her, improving water drainage will help to control floods by facilitating easy flow of excess water.
"Effective drainage systems can ensure flood waters find a clear waterway, leading to non-risk areas," she said.
Also Prof. Olugbenga Ehinola, Head of Department of Geology, University of Ibadan, said that the nation has yet prepared to tackle flooding.
"We are not prepared based on the following – weather forecast is not taken seriously and climate change issue has not been addressed.
"Attitude or behaviour toward environmental sanitation, that is dumping of waste in the streams and rivers, still persists.
"There has been no proper channelisation of rivers and people are still building on wetland areas as well as obstructing drainage channels," Ehinola said.
In Akure, Mr Olufemi Obideyi, the Secretary, Ondo State Emergency Management Agency (SEMA), said the agency had always been creating awareness through different sensitisation programmes to forestall flooding in the state.
Obideyi implored people of the state not to see the SEMA as "a mere palliative-item-sharing" agency after disasters, but as a proactive one.
He said the agency, through the various electronic media, had been sensitising people to desist from throwing waste into the drainages.
According to him, building of structures on natural flood plains is another cause of flooding.
Obideyi said the agency had been collaborating with the Town Planning Department of the Ministry of Lands and Housing to ensure that building plans on flood plains do not get approved.
In addition, he said the agency was working with the state Waste Management Agency on regular packing of refuse from the streets to help reduce blocking of drainage channels during rainfall.
"Flood, most times in Ondo State, is man-made; from both our actions and inactions.
"In the Southern part of Ondo State, particularly Ese-Odo and Ilaje, they are naturally prone to flood, because they are lowlands.
"Their lands are below the sea level, unlike other parts of the state that are upper lands.
"But, these upper lands still experienced flooding due to our actions. For example, if people dispose their waste indiscriminately into the drainages and gutters, what will happen?
"These gutters will become silted up and over time, there won't be free flow of water, thereby causing flood.
"So, we normally experience flash flood as a result of our actions," he said.
In his reactions, Mr Akinyemi Igbasan, the Deputy Head, Environmental Department, Okitipupa Local Government area of Ondo State, identified some negative impacts of flooding as damages of properties, loss of human lives, destruction of crops and loss of livestock.
Igbasan, while describing flooding as the most common disaster in Nigeria, attributed one of its causes to indiscriminate dumping of waste in the drainage channels and rivers.
He said that massive rainfall, overflowing of the rivers and ineffective infrastructure design were other factors responsible for flooding during rainy season.
The environmentalist said that flooding could, however, be controlled with proper planning and provision of necessary infrastructure.
He, therefore, urged the government to insist on the monthly environmental sanitation, where residents clean up their environment, clear gutters, gullies and drainage systems for free flow of water.
In Ilorin, Mr Azeez Abubakar, the Director of Programmes, Ilorin Global Shapers Community, called for a purposeful engagement of key stakeholders at all levels to identify and implement solutions to local challenges of flooding.
Abubakar said that analyses had shown that Kwara, especially schools in Ilorin East and West Local Government areas, have very high flood risk level and were most impacted by damages caused by flooding.
He called for more awareness, through community outreach, on the issues of climate and environmental change, saying this would help the people to adapt, build resilience and to hold the government accountable.
"Mechanisms such as early warning system, mobile phone alerts, information sharing on radio and television should be practiced by the government.
"Tree planting should also be encouraged, as trees absorb water from the soil and can help to prevent excessive water from flowing during rainfall.
"This is also beneficial to biodiversity, animal life and sustainability," he said.
However, farmers in Ilorin have decried the high rate of waste they suffered in their farms due to flood during rainy season.
One of them, Mr Ige Babatunde, said that most of his farm produce in 2021 were washed away by flood.
"Last year, I suffered a loss in my farm as my yam farm was totally washed away by flood. I cried when I saw the damage done by the flood," Babatunde said.
Another farmer, Mr Muritala Taiwo, said his rice farm was also totally washed off, adding that he could not harvest anything from the farm due to flooding.
"The year 2021 was disastrous for me. I regretted farming last year, because my entire rice farm was soaked and washed away; I nearly committed suicide," Taiwo said.
According to Wasiu Alade, another farmer, flood is becoming a major challenge to farmers in the state, as most areas in Kwara are waterlogged and not safe to farm.
"No place can be guaranteed for farming again. We, the farmers in Kwara are suffering a lot during rainy season," he said.
Also, Mr Yusuf Akolade, a farmer, called on the government to support farmers by allocating safe environment to them for farming.
Akolade also sought for financial support and farming incentives from the governments for farmers to enjoy.
In Osogbo, Mr Rufus Oyegbile, the Special Adviser to Gov. Gboyega Oyetola, on Environmental Sanitation, said the state government had done a lot to prevent and reduce flood disaster in the state.
Oyegbile said that for instance, the state government had embarked on desilting and dredging of major rivers in the state.
"Through the efforts of the governor, in collaboration with the Association of Local Government of Nigeria (ALGON), we have been able to carry out dredging and desilting in the state.
"What we did was dry season dredging and desilting, because dredging is well done during the dry season.
"During the rainy season too, we used swamp buggies to expand and excavate the blockages in the waterways.
"The Ministry of Environment, through the Department of Flood and Osun State Emergency Management Agency (OSEMA), have ordered those who erected buildings or structures along or on flood plane to vacate.
"We have also asked people erecting structures to observe a setback of a minimum of 15 to 20 metres away from the streams.
"We have marked houses of those who have their buildings closed to the waterways and equally asked them to vacate," he said.
Oyegbile said that residents were also sensitised against dumping refuse in the canals, drainages, rivers and streams, as the practice could block the waterways, thus leading to flooding.
"We are going round markets, telling the market heads how to dispose their refuse," the governor's Aide said.
He said the enforcement unit of the Waste Management Agency (OWMA) would go round to sensitise and arrest those dumping refuse indiscriminately and violating the environment sanitation laws.
Also, the National Environmental Standards and Regulations Enforcement Agency (NESREA), has advised Osun residents to guard against dumping of waste in the water channels.
Its Coordinator in Osun, Mr Muhammad Shukwuweinzu, said that challenges associated with flooding could not be overemphasised, looking at the rate of environmental pollution in the country, especially in Osun.
Shukwuweinzu said that the agency had increased its awareness drive in the engagement of critical stakeholders on dangers associated with such negative attitude.
"We will continue to spread the message in the market places, industries, factories, health centres, academic institutions, among other flash points.
"The agency believes that the awareness drive will help mitigate against such practices and attitudinal behaviour of dumping waste in water channels," Shukwuweinzu said.
According to him, the human factor associated with flooding must be addressed, unlike the natural causes.
"I want to urge Osun residents to obey government's directives on environmental sanitation and also abide with the agency's environmental standards and regulations," he said.
In his views, an environmentalist in Ota, Ogun, Mr Bela Odeyemi, advised the state government to take the predicted flooding from this year's rainfall seriously and make plans to mitigate against the adverse effects.
Odeyemi, describing flooding as the most common disaster in Nigeria, listed its impacts as property damage, loss of human lives, destruction of crops and loss of livestock
He also identified indiscriminate dumping of waste in the drainage channels and rivers; overflowing of rivers and poor infrastructure designs, as major causes of flooding in Ogun.
The expert, however, said that flooding could be controlled with proper planning and provision of necessary infrastructure.
In his views, Mr Ola Oresanya, the Special Adviser to Gov. Dapo Abiodun of Ogun on Environment, said that the state had taken necessary measures to check the likely impacts of the predicted flooding from the 2022 rainy season.
Oresanya recalled that the Nigeria Meteorological Agency (NIMET) and the Hydrological Services Agency (NIHSA) had predicted that Ogun, being a coastal state, would experience prolonged rainfall.
He said the agencies also warned that the prolonged rainfall would be accompanied by flash flood in most parts of the state, particularly in the months of June and July.
The governor's aide said that the coastal flooding might be compounded with the release of water from Oyan Dam, accompanied with high tide in the Lagoon.
He said that the state had prepared for the likely impact of the weather pattern.
Oresanya explained that the first level of preparations by the state was dishing out information to the residents about the impending flood.
"We have intimated and advised residents in wetlands areas with low rainfall infiltration to take precautionary measures ahead of and during the period.
"The areas include lsheri, Akute, Warewa, Oke-Afa, Owa and Yemule River Banks in Ijebu-ode Local Government area.
"We have also gone to sensitise residents of Onihale in Ifo Local Government, Ebute-Kimobi in Ijebu-East Local Government and those living near flood plains of Sokori and Onikoko-River in the Abeokuta Metropolis.
"Other areas we have visited include Eruwuru in Sagamu, Ijamido, Isaka Owode-Yewa in Ado-Odo Ota Local Government," the governor's Aide said.
He said that the state government had also embarked on the construction of culverts and earth drains within various communities across the state.
"We have also embarked on deflooding and dredging of major streams and desilting of drainage channels.
"Additionally, the state government has commenced intervention projects through the Nigeria Erosion and Watershed Management Project (NEWMAP).
"The World Bank-counterpart-financed project is centered on desilting of rivers and streams across the three senatorial districts of the state," Oresanya said.
He added that the governor had directed that the Flood Emergency Management Unit (FEMU) be decentralised into all the local government areas of the state for faster response to emergency calls during the raining season.
According to him, the central response unit is domiciled in the Ministry of Environment.
"Ogun, as an agrarian state, looks forward, delightfully to the season of rainfall to support our investment in agriculture, afforestation and climate change adaptation programmes.
"The need for effective collaboration with the government to prevent devastation from improperly managed rainfall and consequences of flooding is, therefore, compelling.
"The season of rainfall is not a curse, but a blessing. Please, support the state government to keep our state free of flood," he said.
Responding, Mr Kunle Babalola, the Chairman, Ogun Community Development Association in Mowe, Obafemi Owode Local Government Area, said that community leaders within the area had been advised on ways to safeguard vulnerable members of the communities during the period.
Also, Mr Tunde Akinbiyi, the spokesperson of the Ogun Traffic Compliance and Enforcement Corps (TRACE), said the body had continued to sensitise motorists and pedestrians to be mindful of the peculiarities of the season.
In Ekiti, Mr Jide Borode, the General Manager, State Emergency Management Agency (SEMA), assured the people that everything humanly possible was being evolved to checkmate disasters accompanying incidence of flooding.
Borode said the agency was fully prepared toward ensuring the safety of residents, adding that part of the strategies include clearing of drainages and persistent sensitisation and awareness creation in the media.
Besides, he said efforts had been intensified in the aspects of refuse and waste removal as well as management.
This, he said, was corroborated by the National Emergency Management Agency (NEMA), which had warned residents to stop indiscriminate dumping of refuse on waterways to avoid flood disasters.
Mr Olanrewaju Kadiri, Head of NEMA Operation in charge of Ondo, Osun and Ekiti, said the warning became imperative to avoid the negative tendencies of flooding.
Kadiri said that some residents were in the habit of dumping refuse on waterways, especially during rainfall, while some were also used to erecting buildings on water channels.
According to him, the agency had rolled out a lot of public awareness and sensitisation programmes, such as road shows, radio and television talks, to educate and inform people on the dangers of flooding.
"We are on red alert in Ekiti. We know that we can't totally prevent disasters from happening, but we can do a lot to reduce the impact on people.
"This is why we have procured basic items to shelter people, who may be displaced during the period and those whose houses are inhabitable.
"We are also checking the readiness of other agencies that we are partnering with to ensure that they are ready. We have two key stakeholders that will be monitoring to ensure everything is on standby.
"We are doing all of these to ensure their readiness and to make sure that response is effective.
"We are also trying to ensure that enough resources from these agencies are put to use in a right way," he said.
Contributing, Mrs Seyi Ebenezer, the Team Leader of Triple Green Environmental Development Foundation, an NGO, said her foundation had planted over 1,000 trees in some strategic areas of the state to prevent flooding.
Ebenezer urged other stakeholders in the environment sector to join hands together to fight flooding in the state, considering the fact that Ekiti was known to be one of the areas prone to flooding.
She also advocated good environmental policies by government to achieve a sustainable environment.
A waste management expert, Dr Comfort Adeojo, said that the mode of waste disposal and collection should be improved on as communities grow.
Adeojo expressed displeasure over indiscriminate dumping of waste, especially in Ado-Ekiti, calling for attitudinal change among the residents.
Also, Mrs Abosede Toroni, NESREA Coordinator in Ekiti, urged residents to always treat their environment with care, saying, "Whatever you do to the environment will have effect on you".
According to Toroni, NESREA has made it a duty to be clearing gutters filled with dirt to ensure free flow of water during the rain and to avoid disease associated with flooding like malaria, cholera and other water-borne diseases.
An environmentalist, Mr Babatunde Ogunlana, said that many residential areas have no drainage system and have to rely on natural drainage channels, while most areas, built with concrete, could not absorb water, thereby increasing runoffs.
Ogunlana said that poor waste disposal services by government authorities could also contribute to flooding.
He said though, the Nigeria Meteorological Agency, on its part, provided seasonal rainfall predictions, communication remained a major problem.
According to him, integration and coordination are lacking among the government bodies, which sometimes carried out flood control projects.