Stakeholders on Monday, June 19, 2023, in Abuja advocated environmental justice to tackle the dangers associated with global warming, climate change effects on human and the general biodiversity in Africa.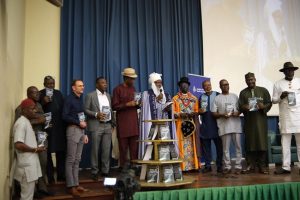 They made the call during the 10th anniversary conference of Health of Mother Earth Foundation (HOMEF) a non-governmental organisation (NGO).
The theme of the conference is "Advancing Environmental Justice in Africa".
The Emir of Nasarawa, Ibrahim Jibril, in his keynote address titled "Environmental Governance Between Policy and Practice", said that a lot of environmental issues had been brought to the forefront and could no longer be ignored again.
"Renewable energy, climate smart agriculture, climate financing as well as climate technology have taken the centre stage all over the world now.
"The NGOs have also been playing prominent role helping to checkmate negligence and or lapses of governments and corporate organisations in respect of environmental protection.
"In the last six decades or more the environment has gradually taken a centre stage in world affairs," he noted.
Jibril said that Nigeria was therefore not an exception to this global trend.
"There is no part of this country that is not facing Environmental issues or challenges.
"The Northern part of the country is facing the challenges of desertification and desert encroachment.
"In some parts of the North-East 'sand dunes' are moving southwards at an alarming rate of about 400 metres per annum.
"The Southern part of the country is facing the challenges of coastal erosion, destruction of the mangroves, rising sea level and in some places massive deforestation, massive oil pollution as well as dangerous and very destructive gully erosion," he said.
The Emir said that in Nigeria the efforts of both governments and NGOs towards actualising laudable policies on environmental governance and putting them into practice were laudable and commendable.
"A lot has been achieved over the years, but a lot more needs to be done because we cannot afford to rest on our oars.
"Recent development of year in year out shows that flooding is becoming a national menace.
"There is therefore the need for more involvement of government at sub national level in Nigeria to give more priorities to environmental challenges in their areas of governance," he appealed.
Earlier, in an address of welcome, Nnimmo Bassey, Director of HOMEF, said the struggle for environmental justice in Africa is complex and broad.
"It is the continuation of the fight for the liberation of the continent and for socio-ecological transformation.
"It is a fact that the environment is our life; the soil, rivers and air are not inanimate or lifeless entities.
"We are rooted and anchored in our environment. Our roots are sunk into our environment and that is where our nourishment comes from," Bassey noted.
He said that Africa was facing multiple ecological challenges.
"All of these have resulted from the actions of entities that have seen the continent as a sacrificial zone.
"Ten years ago, HOMEF was birthed from a dream. It was a dream to have a think tank focused on approaching knowledge from the basis of diversity and built on a multiversity of co-learning and co-knowing tools.
"For 10 years, with a team of vibrant and committed young activists, we have pursued knowledge and unearthed the roots of exploitation and despoliation of communities and nations on our continent.
"We have collaborated and stood with fishing, forest, farming, mining and oil field communities," he disclosed.
The director said that HOMEF had worked as part of networks and movements for environmental and climate justice across the continent and the world at large.
He appealed that all Africans enjoy the right of living in a safe and satisfactory environment suitable for their progress as enshrined in the African Charter on Peoples and Human Rights.
By Abigael Joshua