As countries work towards elimination of lead and its components in paint production due to its adverse effect on the health of man and animals, Nigeria must be in the forefront in ensuring leaded paint is produced in a way that will ensure the wellbeing of all and sundry.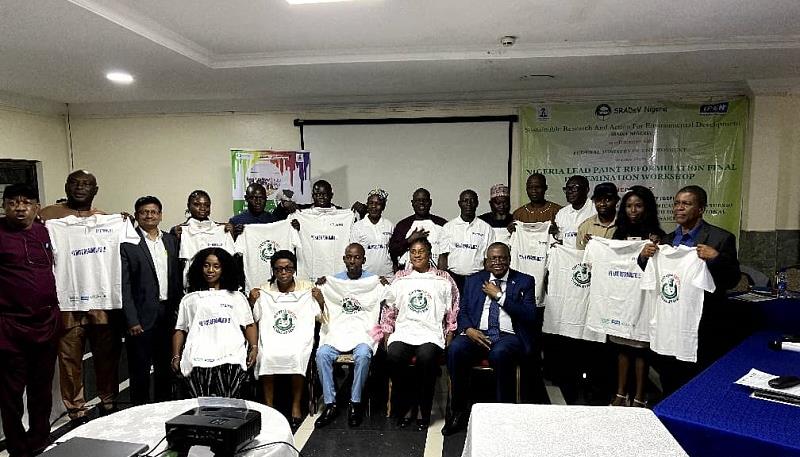 Environmental expert, Professor Babajide Alo, made this declaration at the close of a Project Dissemination Workshop organised by the Sustainable Research and Action for Environment Development (SRADev) Nigeria in Lagos on Thursday, June 30, 2022.
According to Professor Alo, it has been proven that paint produced around the world is hazardous to human health and there is need to put a stop to this to prevent further damage and possible loss of life.
"It has been proven that lead is very toxic and very dangerous to man and animals, it has been proven that children who get in contact with lead get their brain toxified somehow. So, based on that, the world led by the United Nations Environment Programme (UNEP) decided that we needed to get rid of lead in every paint produced," he noted.
"About 10 years ago after carefully studying the effect of all forms of paint produced at the time had on people, UNEP felt there was necessity to eliminate lead and it's compounds in paint production," Professor Alo stressed.
Alo, who was a facilitator at the event, maintained that the pilot scheme project embarked upon by SRADev-Nigeria has shown that lead can be successfully removed in paint production in Nigeria and provide alternatives that can be used instead of lead components.
In a goodwill message, Executive Director, SRADev-Nigeria, Dr. Leslie Adogame, said the project titled "Global Environment Facility (GEF) ID 9771", focuses on Global Best Practices on Emerging Chemicals Policy Issues of Concern under the Strategic Approach to International Chemical Management (SAICM), and it is aimed at providing information on the lessons learnt, share experiences and provide information on the deliverables as well as discuss next steps on elimination of leaded paint in Nigeria.
He said: "Nigeria is the only country chosen for this GEF project in Africa so it is a pilot, and the experiences of SRADev-Nigeria will be shared with other African countries. Last week was the African regional meeting in Nairobi, Kenya and we talked extensively about how far this project has come.
"The number one objective of the Final Project Dissemination Workshop is essentially to disseminate information on the reformation process and outcome of working with SME paint manufacturers and our major partner, Clariant/Parco, who helped in the area of technical support. The need to present participating Paint Manufacturing SMEs to see their commitment in the production of lead-free paint and PMA technical team and also facilitate discussion on next steps with policy makers and industries on lead paint elimination," he stressed.
In his submission, Senior Project Officer of SRADev-Nigeria, Mr. Victor Fabunmi, highlighted the activities of the NGO dated back to November 19, 2020, when the project was launched in collaboration with International Pollutants Elimination Network (IPEN), encouraged paint manufacturers to be champions of the cause in establishing that production of lead-free paint is achievable.
"There was partnership with PMA, SMEs and alternative suppliers on reformation and it yielded positive results. Bluetech Limited, Precious Paints Nigeria Limited, Integrated Paint and Allied Products, Prestige Paint, Olabi Paint and Fundamental Technologies (Funda Paint) were able to achieve complete reformulation," he concluded.
While disclosing the key achievement of the project, representatives of UNEP who joined remotely noted that with what has been achieved with the research work, reformulation is entirely possible and doable with a call for a legal team to be set up so as to take care of legal issues and offer legal drafting support in ensuring strict compliance.
On the issue of informal sector, Dr. Adogame suggested that they should be reorganised and absorbed into the system fully to, according to him, ensure that they adhere to the rules of the sector.
"What the Federal Ministry of Industry, Trade and Investment needs to do is to map the country, identify the informal sector and formalise them by reorganising them into productive sector and they can become useful and contribute to the GDP of the country. Ensure they get benefit and incentives instead of tasking them," he concluded.
Professor Alo however assured all participants that the project enjoys full support of the Federal Government and agencies like Standard Organisation of Nigeria (SON), and National Environmental Standards Enforcements and Regulation Agency (NESREA), which are determined to ensure strict compliance in ensuring a healthy environment.
Other government agencies present at the workshop included Federal Ministry of Environment; Federal Ministry of Health; and Federal Ministry of Industry, Trade and Investment, among others.
Dr. Marcus Oluwadare represented the World Health Organisation (WHO) at the session while Angela Bandemehr, UNEP's Nicoline Laxanchy and IPEN representative joined the session remotely.