Lead poisoning is entirely preventable yet the World Health Organisation (WHO) estimates childhood lead exposure to contribute to about 600 000 new cases of children with intellectual disabilities every year. As the world marks the third international lead poisoning prevention week, the WHO and civil society groups aim to raise awareness about lead poisoning and urge further action to eliminate lead in paint.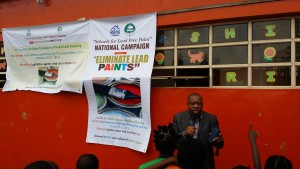 One of them, SRADev Nigeria, marks a historic decision by the international community affirming the global phase out of lead paint by 2020 by engaging public and private schools in the Lagos metropolis in an awareness raising campaign through promoting and kicking off a national "Schools for Lead Free Paint" Campaign. This is in recognition of the need for expanded solidarity and action to protect the Nigerian children's brains, health and future. About 20-25 schools would endorse a statement of commitment to call for a phase out of Lead Paint in Nigerian schools to be forwarded to the relevant government regulatory bodies.
SRADev Nigeria pressed for local measures to complement the global goal during International Lead Poisoning Prevention Week of Action (ILLPPWA) from October 25 to 31 sponsored by the United Nations Environment Programme (UNEP) and the WHO.
A study of new household paints sold in Lagos carried out in 2009 by SRADev Nigeria in collaboration with International POPs Elimination Network (IPEN), found that many paints contained lead. All the 30 paint samples found lead in all 30 paint samples tested (100 %), which included 23 enamel paints and seven plastic paints. All samples had lead concentrations higher than the permitted lead levels for paints (that is far beyond the recommended limit of 90 ppm). Out of the 10 developing countries from where paint samples were collected and analysed for total lead contents, Nigeria paints showed highest percentage of samples containing more than 90 ppm of lead followed by Tanzania, Mexico, South Africa, Belarus, Senegal and values more than 600ppm were even found (100% of the samples).
Despite this alarming situation, till date, Nigeria has no standard or legal limit for lead in paints. The general public is at the mercy of paint manufacturers. In May 2009, at the 2nd International Conference on Chemicals Management, Nigeria was among more than 100 countries that endorsed a Global Partnership to Eliminate Lead from Paint.
Preventive measures, the group stated, include the urgent adoption of a national mandatory policy that will phase out the manufacture and sale of paints containing lead, a major source of childhood lead poisoning along with lead-contaminated dust.
"It's essential for our society to respond to this global challenge and make the phase out of lead paint a top public health priority. We must act with urgency as the health of our children can be permanently and irreversibly damaged even at very low exposures to lead," said Leslie Adogame, Executive Director, SRADev Nigeria. "Europe banned lead in paint in the 1920s. What are we waiting for when safer alternatives are available? We need to protect our children and eliminate lead from paint and we can only hope that the paint manufacturers embrace in interim a voluntary approach."
The Paint Manufacturers' Association of Nigeria (PMAN) is a member of the International Paint and Printing Ink Council (IPPIC), which is in turn a contributor to the Global Alliance to Eliminate Lead Paint, established by the United Nations and WHO.  WHO, which considers lead as one of the "10 chemicals of major public health concern," has stated that "there is no safe level of exposure to lead."
"Safe, cost-effective alternatives to lead in paint have been in use for more than 40 years in the United States, the European Union and other high income countries. There is no good reason that lead paint continues to be sold," said Dr. Sara Brosche, International Lead Paint Elimination Project Manager at IPEN, a global civil society network pursuing safe chemicals policies and practices.
At the recently-concluded International Conference on Chemicals Management, government, industry and civil society delegates from over 130 countries affirmed the global consensus to eliminate lead paint by 2020. The multi-stakeholder conference is the implementing body of the Strategic Approach to International Chemicals Management (SAICM), which is managed by UNEP. Lead in paint was banned and eliminated from paint in most industrialized countries decades ago, but continues to be widely sold in many developing countries, including Nigeria.
Children are most likely to be exposed to lead from ingestion of flakes and dust from decaying lead-based paint, according to WHO, affecting children's brain development and their measurable level of intelligence (IQ). Many other health effects such as: gastrointestinal effects, anaemia, hypertension and hearing loss, effects on the nervous system (e.g. on behaviour and cognition), on development, and on the reproductive system, as well as genotoxicity, carcinogenicity and social effects have been associated with lead exposure.
"Lead threatens a child's brain development and health," reports pediatrician, Dr. (Mrs) Disu, who is Head, Pediatrician Dept, Lagos State University Teaching hospital. "Child lead poisoning should be taken seriously, and parents should be aware of possible pathways of exposure including lead paint in one's home. Cases of lead poisoning with its attendant symptoms have been found to be common with children brought to the hospital for treatment."