The Spanish Ministry for the Ecological Transition (MITECO) presented on Thursday, December 5, 2019 at COP25 in Madrid an early-alert system to identify illegally trafficked woods protected by the Convention on International Trade in Endangered Species of Wild Fauna and Flora (CITES). The innovative tool allows users without much technical or scientific background to identify protected tropical wood species effectively, something that available techniques did not allow before.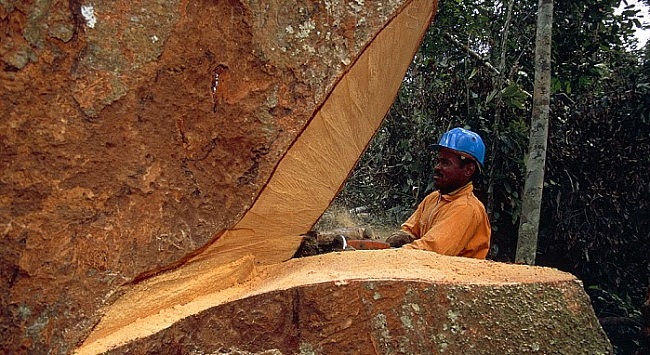 Detecting protected tropical woods, as they are smuggled illegally into a country, is complex for different reasons. First, they are easy to conceal among shipments of legally obtained wood. Inspecting, identifying and differentiating various wood species can also be hard because officers often lack effective and simple tools in the field or at borders.
Due to its geographical location, Spain is a hotspot for international illegal trafficking of tropical wood. Thus, MITECO says it has been working to develop techniques and methodologies to identify wood species according to CITES standards and contribute to the fight against illegal trafficking networks. The implementation of the tool, it was gathered, will provide more efficiency to inspections carried out by officials who track down this crime.
The new methodology was developed by MITECO, in partnership with the School of Forestry Engineering and Natural Resources of Madrid, under the Spanish Action Plan Against Illegal Trafficking and International Poaching of Wildlife Species Framework (TIFIES) – described as ground-breaking in the European Union.
Javier Cachón, Director General for Biodiversity and Environmental Quality, said: "Spain makes available to all countries this cutting-edge technique to fight against the illegal logging of tropical rainforests."
The tool includes an Early-Alert Wood Guide with a kit comprised of all the types of wood protected by the CITES, along with two magnifying glasses (24 and 400 augmentations) and other utensils to collect wood samples. The magnifying glasses attach to a mobile phone camera, allowing users to send easy-to-analyse imagery to a lab through an app, and assess the detailed characteristics of each type of catalogued wood.
The protocol allows officers to carry out complex inspections more effectively and detect fraud onsite, thus allowing an early-alert activation. For instance, this system could stop the shipment of a wood species that does not match with the manifest provided, after being assessed.
According to the UN Environmental Programme (UNEP), illegal logging is the first environmental crime globally. Only in 2016, UNEP and INTERPOL estimated that forestry crimes, including illegal logging, was valued at $51 to $152 billion.
Illegal trafficking of tropical woods represents 80% of the wild species trafficked across the planet, and enables forest degradation and deforestation, affecting local communities and representing billions of euros in losses for wood-producing countries. In several tropical-forested regions, such as the Amazon, the Congo Basin and South East Asia, illegal wood trade is estimated at 50 to 90% of the total volume produced.