The World Igbo Environmental Foundation (WIEF) says there are over 2,800 active erosion sites threatening to sack most communities in the southeast of Nigeria from their ancestral lands.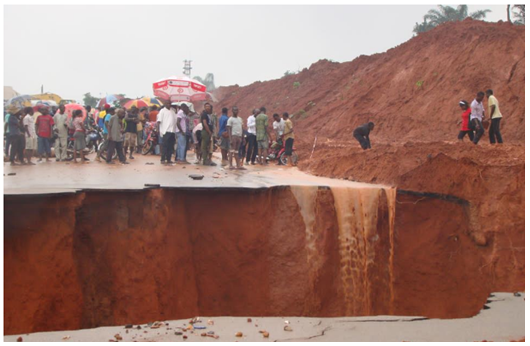 Dr Odili Ojukwu, Chairman of the foundation, made this assertion in an interview with newsmen in Awka, capital of Anambra State, on Wednesday, July 4, 2018.
Ojukwu, an engineer, advocated for community participation in the management and protection of the environment from erosion.
He blamed the prevalence of gully erosion on faulty road construction and drainage systems, adding that people must ensure that development activities in their areas do not result to erosion.
According to him, there are over 1,000 active erosion sites in Anambra, 300 in Imo, 500 in Abia, 500 in Enugu and 500 in Ebonyi states.
"We tried to establish the causes of erosion and gully issues within the South-East and South-South Region; these are the areas most exposed to erosion.
"As we speak, in Anambra alone, there are over 1,000 active erosion sites, in Imo there are about 300, Abia 500, Enugu 500 and Ebonyi 500.
"So, if you aggregate it, you will discover that the entire region is at risk of losing its ancestral land.
"WIEF is saying that every community has the right to protect their environment; nobody should come into your land to destroy it unless you allow them.
"Communities need to take ownership of their environment; that is what will enable them see potential erosion and check it to prevent them from becoming gullies.
"Climate change is also a factor but that is after all the anthropogenic issues have been taken care of, that is; all human effect on vegetation must be limited," he said.
Ojukwu, an Environmental Consultant, underscored need for a holistic approach to addressing the erosion menace.
He said government at various levels had not done enough to check erosion as the institutions and policies that guarantee sustainable environment were non-functional or lacking.
"Historically, governments have not been able to do much to ensure environmental sustainability; this is also made worse by the I-don't-care attitude of the people.
"Our institutions do not work, that is why there no technocrats who act on issues of environment on constant basis
"Gullies do not begin overnight, there are processes leading to them and they can be stopped with minimal effort at the community level," Ojukwu said.
By Chimezie Anaso