Stakeholders in South-West Nigeria have differed in their views on the possible effects of the irregular rainfall patterns in year 2021 on agricultural harvest, a survey has shown.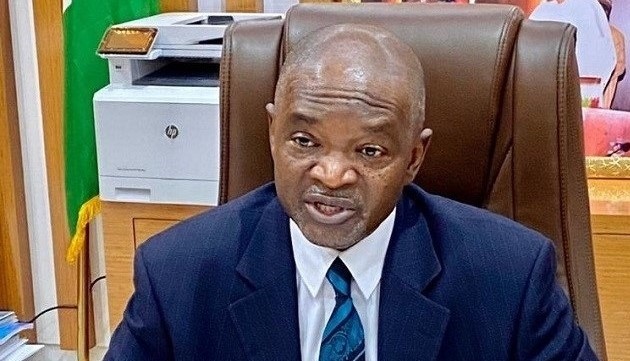 The survey was conducted in Ogun, Oyo, Osun, Ondo. Ekiti and Kwara, with some expressing optimism that the rainfall recorded in 2021 would have positive effects on food supply in the country.
Others, however, said the inconsistent rainfall in the first and second planting seasons of the year would affect bumper harvest of agricultural crops as the year comes to an end.
A crop scientist at the Cocoa Research Institute of Nigeria, in Ibadan, Dr Festus Olasupo, said that rainfall pattern in the year should have positive effects on food and tree crop production in the country.
"We expect a boost in the production of food crops as a result of sufficient rainfall experienced in the year.
"Therefore, following the law of demand and supply, the expected increase in crop production is supposed to lower the prices of food crops.
"However, the impact of this may not be too significant because already there is inflation in the country," Olasupo said.
The crop scientist advised farmers to ensure they took all necessary precautions against soil erosion and flooding on their farms in order to prevent crop and harvest losses.
Also speaking, a crop farmer, Mr David Ogundele, said the impact of rainfall on food crops and prices could be positive or negative.
"Let us take maize and cassava for example; those who planted their maize around May/June will experience negative effect on their farms if the rainfall extends to November ending because there won't be enough sun to dry them.
"Those who planted late, around August/early September, will enjoy positive impact because there will be enough rain for their crops to thrive well towards bumper harvest.
"Also, too much rain means too much weeds where farmers will have to spend extra money for weed control, and at the same time scanty rain will lead to famine.
"In a nutshell, rain has to be moderate in order to have good harvest. In the case of cassava, it is a very rugged plant which can be planted and harvested at any time of the year," Ogundele said.
According to him, maize is a very sensitive plant which usually is planted just twice in a year, that is, early maize in March/April and late maize in July/August.
"We harvest early maize in August and late one in November/December. So, the impact of rain on the crops and the price depends on the time we plant and the time we harvest.
"Moderate rainfall is what we need; otherwise the food prices will be higher in the market. It can even go to the extent of farmers not having anything to take to the market.
"We so much rely on seasonal production of foods whereas our feeding is not seasonal.
"Our leaders should encourage irrigation system so that we can always have food on our table and raw materials for the industries all year round," Ogundele said.
Also, Alhaji Sulaimon Araokanmi, the Chairman of All Farmers Association of Nigeria (AFAN), Osun Chapter, said that the effect of heavy rainfall in the year could affect harvest both positively and negatively.
According to Araokanmi, there are some crops that require a lot of water, which heavy rainfall will help to boost their growth while some crops die due to excessive rainfall.
The AFAN chairman said alhough rainfall boosted the production of yams, rice, sweet potatoes, cassava and other tuber food crops, many farmers refused to plant in 2021.
Araokanmi said this was because they feared there might be drought or insufficient rainfall, just like what happened in 2020.
He said the prices of food crops remained high as demands still surpassed supply because many farmers did not plant early due to the fear of uncertainty of rainfall.
Araokanmi appealed to government at all levels to encourage and assist farmers with necessary inputs to embrace irrigation agriculture to ensure all year round food production.
Speaking in the same vein, Mr Isiaka Ologun, a farmer, said a lot of maize farmers did not plant in 2021 due to the loss they incurred in 2020 because of inadequate rainfall.
Ologun explained further that, consequently, many farmers in Osun did not plant in 2021 because of debts incurred in 2020 arising from poor harvest.
Speaking on the situation, the Commissioner for Agriculture and Food Security in Osun, Mr Adedayo Adewole, predicted that rainfall in 2021 would likely have positive effects on harvest.
Adewole explained that the recent rainfall had impacted positively on cultivation of farm produce, and was expected to yield bumper harvest.
According to him, the prices of some food commodities had dropped when compared with the situation earlier in the year.
"The price of rice now is reasonable compared to last year when the rain was not stable.
"Also, the price of yam and other perishable goods is expected to come down as end of the year approaches," the commissioner said.
Mr Silas Joel-Yamu, an agriculture expert, said in Ogun that inconsistent rainfall at the beginning of the year would definitely affect bumper harvest.
Joel-Yamu noted that some time in the year, rainfall stopped, adding that the unexpected break affected growth and development of the plants, which in turn resulted in low productivity.
"If there is low production, farmers would prefer to take very little to the market and that means that the consumer will have to pay more.
"Now, even if they take a substantial amount of the crops to the market, because of their losses they will want to raise the prices of the crops to ensure they recover their invested capital," he said.
Also, Mr Johnson Ajibola, Chairman, Youth Farmers Association, Ogun chapter, said that massive rainfall witnessed from September till date had affected most farm produce.
Ajibola explained that the rainfall had led to increase in prices of some food items while the prices of some crops like cassava dropped in the market.
"A tonne of cassava before was sold for N72,000 but presently it is now sold for N32,000 because most farmers rushed to harvest their cassava so as not to allow the heavy rainfall spoil them," he said.
In his submission, Mr James Oyesola, Director of Tree Crops and Rural Development Services/Climate Change, Ogun Ministry of Agriculture, said that climate change had really affected the 2021 planting season.
Oyesola said the timing and calendar of planting was affected by climate change in 2021, adding that the rain did not come as expected and the late rainfall was not useful to crops like maize.
"We got some predictions this year and the predictions came to pass that the rains will be coming very late.
"Most of the food crops planted by farmers were planted early and those who did not heed the predictions are now blaming themselves because the rains did not come early," he said.
The director said that farmers would need to adjust their traditional time table of cultivation of food crops and seek advice from meteorologists and weather experts on when to plant due to the effect of climate change.
"We expect tree crops like Cocoa, Cashew to be planted within June and July, but the rain did not come when farmers expected much rain around that period, and even the normal August rain did not come this year.
"So, there is now a shift in the planting season due to effect of climate change," Oyesola said.
However, Mr Emmanuel Giwa, a former chairman of the AFAN in Ondo State, described the recorded rainfall in year 2021 as adequate, while predicting that the country should expect a bumper harvest.
Giwa, who thanked God for the rainfall recorded, said this would make crops available and may drive prices of foodstuffs down.
"Even rice, cassava and maize this year will record bumper harvest. If there is sufficient rain, then a bumper harvest is expected which may further drive down the foodstuff prices,'' he said.
Giwa however, noted sadly that the bumper harvest might not necessarily reflect in the prices of food commodities as expected because of security and other challenges.
He said the challenges included, farmers and herders clashes, kidnapping and bad roads that had led to the high cost of transportation of crops from the farm to the market.
Also, Mr Gbenga Obaweya, the chairman of Ondo State Agricultural Commodities Association, said that prices of a few staples crops, especially cassava derivatives, had reduced marginally.
Obaweya noted that the availability of other farm produce, which had been cultivated during the rainy seasons had resulted in reduction in their prices.
However, Mr Bankole Aderemi, a tomato farmer in Oba Ile, Ondo State said that excessive rain during flowering and fruiting had affected the expectation of bumper harvest of agricultural produce and cash crops, especially cocoa.
"The non-stop rainfall between September and October aids breeding of fungi and bacteria which destroy young fruits easily.
"On the other hand, it is a blessing to grains and tuber farmers," Aderemi stated.
Also speaking, Prof Olubunki Omotesho, of the Department of Agricultural Economics and Farm Management, University of Ilorin, said there should be shift from concentration on increasing yields as practised during the Green Revolution, to the protection of farm yields.
Omotesho noted that too many farm produce became waste after harvest, adding that transformation should not be mere rhetorics, but a process that must lead to new discoveries.
He said there was also urgent need for the country to retrace its steps with respect to improving the productivity and welfare of farmers.
"The government must put in place machinery to ensure that small scale farmers have the required access to the much needed agricultural resources, markets, lands, finances, infrastructure and technologies to increase their productivity," Omotesho said.
By Razak Owolabi