South Korea says that it is planning to complete the world's largest offshore wind farm running on floating turbines by 2030.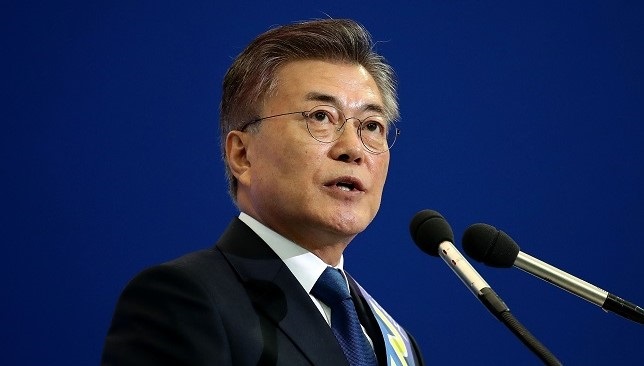 President Moon Jae-in pledged the government's full support for the project during his presentation on Thursday, May 6, 2021.
According to the government, investments worth 36 trillion won ($32 billion) was scheduled for the project off the coast of the industrial city of Ulsan, which will have an installed capacity of 6 gigawatts.
During the first phase up to 2025, the project is to receive 1.4 billion won from the public sector and private companies; Moon was quoted as saying by news agency Yonhap.
"The government will take the lead first,'' he said.
The planned wind farm was an important opportunity to reach South Korea's goals of carbon neutrality by 2050 and to boost the economy; Moon was quoted as saying by the presidential office.
Wind power plays an important part in the government's so-called Green New Deal, which aims to reduce the country's dependency on fossil fuels.
In February, South Korea had presented plans for the world's largest offshore wind farm off the coast of the south-western city of Sinan with a maximum capacity of 8.2 gigawatts, seven times the capacity of the current largest wind farms.
Other than in Sinan, the farm in Ulsan is using floating turbines due to the great water depth.
They will not be anchored in the ground but be attached to buoys.
After its completion in 2030, the Ulsan wind park is to provide 5.8 million households in the region with sustainable energy.