Stakeholders in the medical and civil society sectors in Nigeria's South-East region have called for an end to dental amalgam use in children under 16, as well as pregnant and breastfeeding women by December 2020.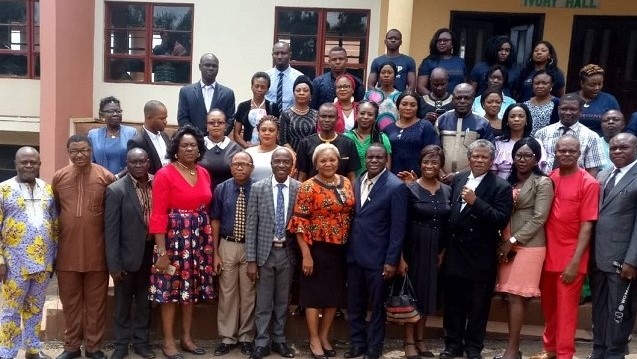 They also want amalgam, which contains mercury that is considered harmful to man and the environment, phased out by 2022.
This formed the fulcrum of the resolutions reached at the South-East Stakeholders' Summit on Phase-Down of Dental Amalgam held on Thursday, October 24, 2019 in Enugu, Enugu State.
Organised by the Sustainable Environment Development Initiative (SEDI) Nigeria in collaboration with the World Alliance for Mercury-Free Dentistry (WAMFD), the daylong event had "Towards mercury-free dentistry in Nigeria" as its theme.
The gathering also urged the South-East state governments of Enugu, Anambra, Abia, Ebonyi and Imo and other stakeholders to implement a phase-down in government dental clinics since the Minamata Convention on Mercury is already being implemented in the country.
The Minamata Convention on Mercury, to which Nigeria ratified on Thursday, February 1, 2018 to become its 88th Party, is an international treaty designed to protect human health and the environment from anthropogenic emissions and releases of mercury and mercury compounds.
In compliance with the provisions of the Convention, the Summit likewise called on the Federal Government to initiate a coordinated multi-sectoral approach for an effective phase-down of use of dental amalgam in the country.
While demanding that dental faculties should be the focal point for mercury amalgam phase down efforts, delegates want dental schools training curriculum updated to emphasise mercury-free dentistry.
The implementation of a phase-down work plan, they stressed, must also include legislative review and development of guidelines, gathering baseline data and developing the national overview.
Apart from promoting training and research on alternative dental restorative materials, participants also clamoured the promotion of subsidies and tax regimes that favour alternative dental restorative materials.
They championed the engagement of the public and media as well as other stakeholders in awareness creation on the health impacts of mercury in dental amalgam and the need for prevention of caries.
While making a case for enhancing tools and mobilising funds for training and capacity building on minimum intervention dentistry, they emphasised that behavioural change activities should be implemented to encourage the participation of all key players.
The forum brought together over 67 participants drawn from government, dental practitioners, dental students, dental surgery technicians, academia, media and civil society groups who deliberated on issues bordering the phasing down of dental amalgam use in the South-East region.
Goodwill messages were delivered by the Dean, School of Dentistry, University of Nigeria; Enugu State Ministries of Health and Environment; Rector, College of Dental Technology and Therapy Enugu; Enugu State Nigerian Dental Association (NDA); Enugu State Nigeria Medical Association (NMA), and the US-based WAMFD.
Certificates of recognition were presented to amalgam-free dental clinics in the region such as: Umeano Dental & Maxillofacial Hospital in Onitsha, Anambra State; Dental Department, General Hospital, Onitsha, Anambra State; Shalom Clinic, Abakaliki, Ebonyi State; Digital Dental Clinic, Abakaliki, Ebonyi State; Kappa Dental Clinic, Enugu, Enugu State; Austin Graces Dental Clinic, Enugu, Enugu State; Royal Dental Clinic, New Owerri, Imo State; and Galaxy dental and Maxillofacial Clinic, Owerri, Imo State.
In a welcome address, Dr Tom Aneni of SEDI Nigeria stressed that a dental amalgam phase down/out across Nigeria would:
Ensure improved dental health and a cleaner environment in Nigeria for children, women and men promoting disease prevention, health promotion and protection;
Show that it is possible for a broad range of stakeholders to agree on a common goal;
Access various opportunities of support available from development partners;
Put Nigeria as a leading nation in the African region; and
Ensure a faster adoption of the phase down campaign in the African region in such a way that "No one is left behind".
In a paper presentation, he emphasised that, for amalgam-free dentistry to yield the desired results, behavioural change activities should be implemented using an inter-sectoral approach that encourages the participation of all key players in addition to policies and regulations for sustainability.
"Largely, there is increasing awareness among stakeholders' and use of alternative dental filling materials (composites) and decreasing use of amalgam than was previously used," he stated.
Dr Leslie Adogame of SRADev Nigeria lamented that most dental clinics/hospitals and incinerators/medical waste treatment facilities in Nigeria essentially are very high-risk environments for mercury vapour emissions and as such pose serious health risk to workers and the general population.
He thus underlined the need to promote mercury-free alternatives for dental restorations.
Prof. Chris Udoye of the University of Nigeria, Enugu Campus, submitted that manufacturers, importers, NAFDAC and quality assurance outfits should ensure wide availability, reliability and safety of dental amalgam alternatives in the market.
He called for the conduct of refresher courses for practicing dentists on amalgam alternatives "so that they can always choose wisely out of the lot in the market".
"The technique of use should also be taught. This possibly should be always flexible to permit convenience," he added.
Prof. Godwin Arotiba of the University of Lagos, Akoka, stressed that the phase down of mercury dental amalgam presents the dental profession a unique opportunity for oral health promotion and integration of oral health into all communicable/non-communicable disease/child health programmes at the primary, secondary and tertiary levels of healthcare.