Health, education, social interaction and business ventures are being boosted in insurgency-ravaged rural communities in Hong Local Government Area (LGA) of Adamawa State in Northeast Nigeria, where innovative solar energy systems are putting back smiles to the villagers' faces, money in their pockets and, most of all, portending fresh hopes for the future.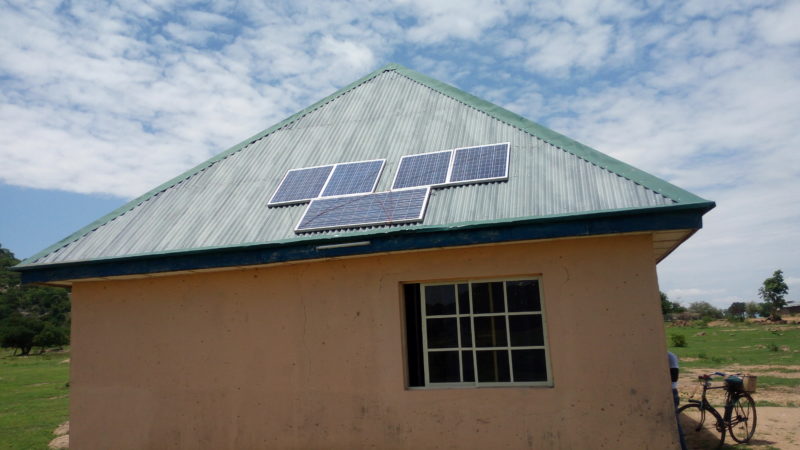 After experiencing deadly attacks last year by rampaging Boko Haram militants that resulted in considerable human and material casualty, returnee residents of the communities are now picking up the pieces of their lives, thanks to an initiative aimed at expanding access of local communities to modern energy services (such as solar energy) under the Sustainable Energy for All (Se4All) programme being promoted by the United Nations Development Programme (UNDP) and Energy Commission of Nigeria (ECN).
In every of the 12 benefitting communities, the project provides a solar-powered fridge-freezer in the local health centre, a solar-powered water borehole along with 10,000-litre capacity overhead tanks, as well as solar home and outdoor lighting systems.
In Garaha Mojili for example, the two fridges installed about six months ago at the Garaha Primary Healthcare Centre are helping to curb the Hepatitis B scourge in the community.
Hepatitis B is a viral infection that attacks the liver and can cause both acute and chronic disease. A major global health problem, the World Health Organisation (WHO) describes Hepatitis B as a potentially life-threatening liver infection caused by the hepatitis B virus. The UN body fears it can cause chronic infection and puts people at high risk of death from cirrhosis and liver cancer.
A vaccine against hepatitis B has been available since 1982. The vaccine is 95% effective in preventing infection and the development of chronic disease and liver cancer due to hepatitis B. The vaccine is now readily available in the Garaha Primary Healthcare Centre, where it is stored (along with other drugs) in the solar-powered fridges.
Hitherto, the vaccine had to be transported from Hong, which is several kilometeres away, and its application to the needy was irregular.
Aminichi Edwards, a Junior Community Health Extension Worker (JCHEW) at the clinic, says: "Before now, we used to go to Hong to get immunisation. But, today, as we have this fridge, our immunisation can take place at any moment.
"If a child is delivered today, we are able to get and administer the Hepatitis B vaccine, which is supposed to be given 12 hours after birth or child delivery. We had problems with going to Hong to bring vaccines as it is quite a distance and the bikes and tricycles usually develop fault on the way as the roads are bad, especially during the rainy season. So the vaccines would get here very late and a times not in a very condition. But now, any day and anytime we need vaccines, we get them here.
"A child that is not given the vaccination at the right time can easily contact the Hepatitis disease, which is not good, and that is why we have been advising that it should be administered within 24 hours. It is a disease that easily transferred from one person to another, so this measure is a form of prevention from the child contacting the disease. So, thanks to the solar fridge, it is now readily available and any child delivered here immediately gets the vaccine. There are now no delays in the administration of this and other vaccines to patients."
Besides the fridge, the clinic is also lit up by solar power.
"We used to make use of the lantern for use here, but we now use the solar light anytime any moment without any problem, no more need to buy batteries or traveling to buy anything, we can use the light anytime any moment. We no longer use the lantern. We used about 8 litres of fuel per day, which would not even take us for long. And the fuel is very costly now. Since we have the solar system, we no longer buy fuel. The system was fixed July 2016 and since then we've stopped using the generator," adds Ms Edwards, listing other villages that patronise the clinic to Dabriah, Garaha Larh, Garaha Dutse and Shasha'u.
Chinapi Yoila, a resident of Garaha Mojili who accompanied his brother, who is a patient, submits: "There is a big difference now in this hospital. There is now fridge where drugs are kept and there is electricity here as well. It used to be difficult obtaining drugs before and I am aware that this was due to transporting the drugs and needed equipment down here from Hong because besides the difficulty of obtaining a bike, tricycle or taxi, the road is also not very good. Now drugs are readily available and there is constant light to enable the staff here to attend to patients."
Commenting on the new water source of water supply in the village, Maxwell Shingu, rice farmer, says: "Without this solar water pump, we have no other place to get water. All the water hand pumps in this community are all broken down and there was no water. So we now solely depend on the solar water project. Before this facility was put in place, we were fetching water from the river. We actually dug a well close to the river. We have to trek several kilometres to the riverside to fetch water. We also purchase chlorine to treat the water from the river before drinking it. But we have no reason to treat the water from the solar pump as it is already very good for drinking. So we no longer spend money to buy chlorine to treat the water from the riverside before drinking, and our wives and children also no longer trek long distances to fetch water."
Philip Nathan, the community's assistant Chief, offers: "The solar lamp after full charge can last for several days. It lights the home at night and charges mobile phones. Before now, we used torchlights and lanterns. We spent about N200 every two or three days replacing batteries for the torch. Now we save an average of N100 everyday as we no longer buy batteries regularly. And this development has improved our personal finances."
Monday Benson, a trader and beneficiary of the solar lamp, states: "Before now, I spent about N200 every day to fuel the generator. I am now able to save more money as I no longer buy fuel for the generator. In fact, every month, I save about N5,000 in my account, something I was not able to do before. This is very good for me because I plan to get married very soon. I do not take the lamp home because it was given to me under a scheme meant to assist young entrepreneurs like me."
Mrs Alpha Williams, farmer and business woman: "I now save a lot of money from constant purchase of batteries to power torchlights and kerosene for lanterns. Also, at night, my children read and do their homework with the solar lamp, which I at the same time use to charge my phone. Everything is so convenient and life is now so much easier for us. We also don't need to go far to fetch water. As you can see, the water station is just by my doorstep. We say thank you to the UNDP and ECN for this kind and timely gesture."
Okon Ekpenyong, an engineer and deputy director with the ECN, said: "Communities that have been driven away by insurgents are now returning. And now that they are returning, it's like going back into darkness. And when these people return from exile, we at the UNDP/ECN now decided that they want to change the standard of living of the community by providing them with necessary energy for daily living, which include energy for lighting, energy for water supply, energy for primary health care delivery. In that case now we decided that we are going to provide them solar energy because in this case they will not need petrol or kerosene but they will use the natural sunlight. So now we are using this solar to provide them water supply. We are also providing them solar lightening with which they can use to charge their phones.
"In Garaha Mojili, the project has successfully provided about 2,403 people with solar lighting systems which would enable the villagers perform domestic duties effectively at night, charge their mobile phones in the convenience of their homes and help children read at night. With this, the villagers do not have to worry about buying kerosene or dry cell batteries for lighting. The portable water supply would help to improve the health condition of the villager by reducing cases of infection from water-borne diseases, and reduce the number of hours needed by women and children to fetch water from the stream.
"The project also trained some youths in the installation of the solar home systems, and the installation and maintenance of the solar powered borehole. This is a form of job creation for the youths who can now install and maintain some of these facilities for other communities."
The 12 benefiting communities are: Kwakwa'ah, Shashau, Garaha Banga, Gahara Lari, Gaya Silkami, Fa'Gaya, Kubutava, Pella, Dilwachira, Mutuku, Gashala Mamud and Garaha Mojili.