Ahead of the World Soil Day (WSD) Prof. Ayo Ogunkunle, President, Governing Council of the Nigeria Institute of Soil Science (NISS), says no fewer than 1.5 billion people are affected by soil erosion globally.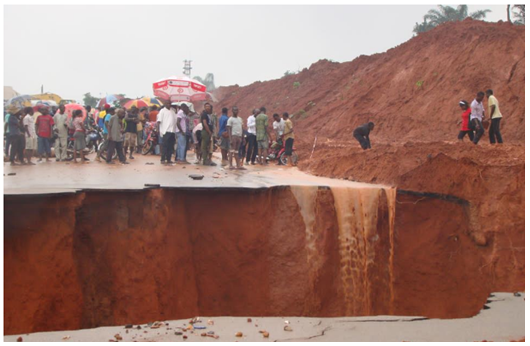 Ogunkunle, who disclosed this on Wednesday, December 4, 2019 in Abuja, attributed the statistics to the United Nations Convention to Combat Desertification (UNCCD), 2013 latest figure.
The WSD is commemorated annually on Dec. 5, to focus attention on the importance of healthy soil and advocacy for sustainable management of soil resources.
The theme for 2019 is "Stop soil erosion, save our future".
The president defined soil erosion as the removal of the most fertile top layer of the soil from the land surface through water, wind and tillage.
According to him, erosion can be human induced or due to natural occurrence such as climatic conditions.
Ogunkunle, however, identified soil erosion as a global problem.
"Considering what is happening around the world regarding soil erosion, no country is exempted, and we have found out that food security is threatened everywhere in the world.
"Global estimate of food insecure population stands at 835 million by the Food and Agriculture Organisation (FAO), statistics 2006; so, if this continues then there is a very serious global problem concerning food security.
"Food security is the major aspect of Sustainable Development Goal (SDG), and three out of the 17 SDGs specifically II, III and 16, speaks about food security,'' Ogunkunle noted.
The president emphasised that unless proactive measures were taken to curb soil erosion, human existence would be at high risk.
He said at least 95 per cent of crop production was on soil, noting that if the soil was degraded, the nation would not boast of quality agricultural output.
"Available data tells us that 24 per cent of the land area that we have is affected by degradation, and this results to 24 billion tonnes of soil being lost every year through erosion, according to 2016 UN statistics.
"The reason Nigerian soil is inherently poor is that the colloidal nature of the soil is very low and needs organic matter to hold it together.
"So, the topsoil is the one that is high in organic matter, which is between 20 to 30 centimetres.
"Unfortunately, that is the region that erosion affects first; and once the organic matter layers have been removed, our soil becomes very poor.
"Nigerian soil is very fragile; hence it requires high degree of sustainable management," Ogunkunle advised.
The WSD is an international day to celebrate soil recommended by the International Union of Soil Sciences (IUSS) in 2002.
By Felicia Imohimi