Gender inequality, unequal remuneration and non-equitable distribution of resources have been attributed as some of the major hindrances plaguing the extractive sector of the Nigerian economy.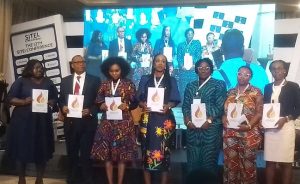 Ms Beatrice Eyong, Country Representatives (Nigeria) for United Nations Women and ECOWAS, made this submission in her Introductory Speech to a Panel Session at the 12th Sustainability in the Extractive Industries (SITEI) Conference 2023 held in Lagos on Tuesday, October 31, 2023.
"For instance in Nigeria, women own and manage about 10% of natural resources despite the fact that Nigeria is the only country in Africa where we have the reservoir of women with qualifications, competence, expertise and the proof is seen at the international level, the number two of the United Nations is a Nigerian woman, the first of the World Trade Organisation is a Nigerian woman, so what stops Nigeria from implementing the gender policy?" she queried.
Eyong is of the opinion that the legal framework is not gender responsive and, because of that, Nigeria has the issue of women not having the same participation, leadership and remuneration in the extractive industry.
She opined that another issue that is plaguing the sector is gender-based violence.
"A study showed that gender-based violence is capable of reducing the Gross Domestic Product (GDP) by at least 2% which is around trillion of dollars, so the fact that there is Gender Based Violence at the level of the communities and institutions, the sector is not going to be effective.
"In the communities where extractive activities take place in Nigeria, women are the one leading 15% households in rural areas which is put at about 30 million people, while in urban areas it is about 19% and, if you calculate that, it is about 40 million people and as we leave those number of people out of development and resources, it is a time bomb waiting to explode," she maintained.
Dr Mina Ogbanga, Current CSO Lead, Nigeria Extractive Industries Transparency Initiative (NEITI), also frowned at the so-called 2060 long term target set by the Federal Government to achieve net-zero.
She said: "You cannot talk about petroleum without talking about the people affected by it and social justice and also about the fact that you get clean energy only from bad energy meaning that technology mainstreaming and the improvement of the quality of presentation and management of or coastal wealth processing is important.
"Why are they telling us about 2060, why are they not cleaning it up and change our processes now? Why can't we use technology that is accessible and available to us now, so PIA is just one aspect of responding to the process where we are saying we are building support and promoting sustainability. There is segregated data for GHG emission; there is segregated data for gender environment and social inclusion issue, among others.
"How are the communities spurring along, how do you measure the impact of what you are doing? PIA is trying to address these issues but there is still so much to be done which is how to mainstream our local activities and ensure that they represents global standards and one of them is that we need to promote disclosure by identifying companies and confirm their GHG emission, segregate data in terms of encouraging and recognising that gender and social inclusion issues are key when you talk about issues around petroleum all these among others will make PIA a lot functional and more effective."
On his part, Dapo Omolade, CEO, Hybrid Group, suggested that the active players in the industry need to find ways of soothing the pains of the host communities and do the right thing going forward.
"In all honestly, the extractive industry in Nigeria is not doing well because the communities are being left behind in the scheme of things. Indeed, the extractive industry is a very potentially rich economy and Nigeria can attest that with more than 50% of our revenue is coming from that industry.
"From the sustainability perspective, we should try to undo the wrong that we have done. The problems are multifaceted but the most prominent one is the level of ignorance in Nigerian society when it comes to issues that relate to health and safety as it affects sustainability is unbelievably low.
"We should look for data to support the level of knowledge that we have when it comes to sustainability," he suggested.
In his submission, Dr Uwem Ite, Head of Community and Government Relations, Oriental Energy Resources Limited, talked about the importance of leadership and how to get it right from the top.
While outlining the challenges that are faced in building and maintaining strong institutions, he said: "As a matter of fact, for us to have a strong institution in Nigeria, we do not necessarily need a strong leader, we need a leader that is pragmatic and knows what to do in the course of nation building and institution building so that our institutions can become what they ought to be.
"Members of the National Assembly also need to sponsor bills that are able to enhance their performance and also, they need to amend the constitution where necessary in order to facilitate optimal performance and good representations.
In her opening speech, Bekeme Masade-Olowola, Founder/Convener, SITEI/CSR-in-Action Group, highlighted the importance of energy transition, cleaner and more sustainable world.
"The extractive sector does not only generate income, it also impacts the environment, impacts the people's lives depending on what actions being taken by the people of the environment."
Highpoint of the event is the Report Launch of Petroleum Industry Act Research of Implementation and Women inclusion in Host Communities as well as presentation of the Community and Human Right Award African otherwise called CAHR Award Africa to deserving individuals and corporate organisations both in Nigeria and across Africa.
The event witnessed numerous dignitaries in attendance such as Dayo Okusami, Partner and Co-Head of the Energy and Natural Resources; Mr Adamu Garba, COO, Nigerian Climate Innovation Centre (NCIC); Mr Adewole Lawal, Senior Manager, Sustainability; Dayo Okusami, Partner and Co-Head of the Energy and Natural Resources
Others are Oluwakemi Ajakaiye, Board Member, Nigeria Chapter, African Circular Economy Network (ACEN-NG); Gamawa Murjanatu, Head, Business Ethics, NNPC; and Daniel Oladoja, Strategic Communications Lead Expert.
By Ajibola Adedoye