For Nigeria to truly achieve its climate change goal of becoming a net-zero economy by 2060, experts believe that there is an urgent need to ramp up action on climate change education to fight global warming.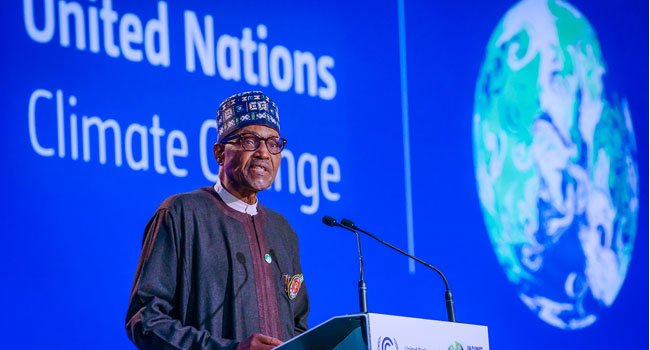 During the 26th Conference of the Parties (COP26) to the United Nations Framework Convention on Climate Change (UNFCCC) that held recently in Glasgow, President Muhammadu Buhari made a historic pledge that, by 2060, Nigeria would become a net-zero emission economy.
Without managing words, this commitment is highly ambitious considering the fact that Nigeria's economy is largely reliant on oil and gas. Industry watchers think that deliberate actions must be taken, especially in accelerating public knowledge on climate change to be able to attain this mind-blowing target.
"Climate education is a gap we need to unite and fill to catalyse result-oriented change and national development," said Michael Semiye, founder of DEAN Initiative, during the 2021 National Day for Climate Education in Abuja.
Nigeria, like many other countries across the world, is currently experiencing the full realities of the climate crisis. From severe drought, desertification, flooding, and food shortages, this predicament is believed to be partially responsible for the armed conflict and rising insecurity that has engulfed some parts of the country – and ranks among the most critical dynamics that will define the nation's livelihood sources in the future.
As part of efforts to proffer a solution to the problem, Mr. Semiye said his organisation is working with the World Largest Lessons to increase climate change education with a keen interest in how Nigeria can make gains through its inclusion in the national school curriculum.
"We are so passionate about this because we believe that climate literacy can give people the tools to engage meaningfully with governments and corporations to help solve climatic challenges," he disclosed.
This passion is based on his organisation's conviction that there is no greater tool to change the world than through education. Therefore, the public must be made to understand that climate change is not just a threat, but it is a reality resulting in social, economic, as well as environmental instability to help reduce the nation's vulnerability.
Similarly, the Minister of State for the Environment, Chief Sharon Ikeazor, described public education as the 'master key' that is needed to build the required resilience and curtail the anticipated climate change catastrophe in the country.
"And that is what we are lacking in Nigeria," says the minister, during an interview held on the sideline of COP26 in Glasgow.
To close this gap, the nation's environment boss revealed that part of the government adaptation plan is to get people to understand these effects and how they can live with them. For her, this will not only empower the young ones in schools and marginalised communities but also government officials who make policies and regulate the sector.
"So, I have asked the Department of Climate Change (DCC), they have an education and awareness unit that hasn't been living up to its mandate, to go all out there to educate our people to understand the issues of climate change how to mitigate and adapt to it, and most especially our rural farmers who are most affected by these impacts," Chief Ikeazor hinted.
This enlightenment needs to be sustained; leaving no one behind, according to Michael Terungwa David, executive director of the Global Initiative for Food Security and Ecosystem Preservation (GIFSEP).
Since climate change is an ongoing issue, David who recently published a book titled: "Understanding Climate Change," believes that no amount of education is enough to tackle this menace considering its dynamic nature.
Citing the dark experience caused by the early cessation of rainfall in the northern region of the country that affected food production, the eco-defender expressed concern that these farmers would not know what the true cause of this is.
"Hence, we need to step down this awareness to those people we feel are not important because they bear the brunch of the crisis," he said. "We need to continue, there is no amount of education that is enough or too much while waiting for finance, technology, and other things we require to adapt."
In conclusion, humanity is faced with a great challenge of all times and part of the solution lies with empowering the citizens with the right environmental education as one of the very first practical actions to walk the talk of the promises that Mr. President made for a net-zero emission economy during COP26 to the whole world in Glasgow.
By Etta Michael Bisong, Abuja