If officials of the Department of Forestry in the Ministry of Agriculture and Environment in Imo State, Nigeria, were to have their way, the ancient tree that fell and killed up to 40 persons last week would be cut into pieces.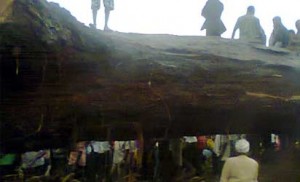 Ministry officials have indicated the intention of engaging the services of lumber jacks to destroy the 300-year-old tree that was uprooted when a strong wind – that was accompanied by thunder and lightning – blew last Thursday in Umudagwu Mberi in Mbatoili Local Government Area of the state. It fell on and crushed scores of people buying and selling under it.
But town elders are kicking against the authority's plan, arguing that necessary cultural formalities and obligations must be strictly complied with in the interest of the community.
Grieving indigenes insist that some rituals must be performed to appease the deity, which they believe owns the tree, so as to avert further calamity. This, they said, entails some sort of cultural cleansing of the land.
In fact, because of the superstition trailing the dreaded tree, the villagers are said to be at crossroads as to what to do with it. Prior to the incident, indigenes had observed that the tree was in a state of decay but were afraid to cut it down because it was believed to be evil. In 1992, two people who were hired to cut down the tree died mysteriously. Since then, people became fearful of the tree.
An octogenarian, Onyewuchi Njoku, claims that the tree (referred to as Uku) is as old as the community. He adds that it possessed medicinal qualities with which the people took care of some of their health needs. The tree also provided a comfortable habitat for reptiles, especially pythons, some of which were crushed when it fell.
Bodies recovered from the rubble of the fallen tree include elderly women, men and children, some of whom were at the evening market to either transact business or assist their relations to pack their goods, mainly food stuff, as it was about to rain. The tragedy occurred about 7.50pm on Thursday.
Rescue effort was hampered following the incident because the local folks lacked heavy equipment with which to lift the tree and rescue those trapped and who were at that time still alive.