Pan-African housing development financier, Shelter Afrique, has urged African governments to prioritise partnerships in their quests to provide affordable housing to their citizens.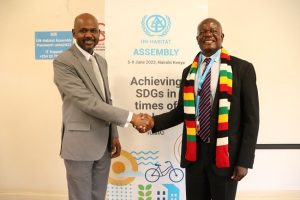 According to Mr. Thierno-Habib Hann, the Managing Director of Shelter Afrique, housing occupies a central position within the framework of the Sustainable Development Goals (SDGs). Mr. Hann firmly believes that the establishment of sustainable partnerships assumes paramount importance in effecting substantial and meaningful advancements in the sphere of affordable housing provision.
"Adequate housing is one of the key components of Sustainable Development Goals and achieving housing goals will require collaborative efforts and forging fruitful partnerships among key players in the housing sector," Mr. Hann said.
Research by Shelter Afrique's Centre of Excellence (CoE) has revealed that the overall shortage of housing in Africa is estimated at over 56 million housing units, out of which, more than 90 percent are in the affordable housing bracket.
"The solution to resolving this shortage lies in a well-coordinated and collaborative effort among all stakeholders, including governments, multilateral institutions, non-profit organizations, and the private sector. Collectively, we maintain our commitment to inventive strategies in tackling housing needs," Mr. Hann said.
Mr. Hann spoke on the sideline of the United Nations Habitat Assembly held last week in Nairobi, Kenya, where he also held talks with the Uganda delegation led by the Minister of State, Housing, Namuganza Persis Princess, to establish a solid foundation for partnership. He also held bilateral talks with the Niger delegation led by Mr. Maizoumbou Laoual Amadou, Niger's Minister of Town Planning and Housing, on future cooperation on sustainable urban development.
Mr. Hann also joined forces with the Zimbabwe delegation, led by Daniel Garwe, Minister of National Housing and Social Amenities, to discuss collaborative opportunities with the delegates at the event.
Strategically aligned
As the governance body of the United Nations Human Settlements Programme (UN-Habitat), the United Nations Habitat Assembly is the highest global decision-making body on sustainable urbanisation and human settlements, which convenes every four years.
This year's event was held from June 5 to 9, 2023, in Nairobi, Kenya, under the theme: "A sustainable urban future through inclusive and effective multilateralism: Achieving the Sustainable Development Goals in times of global crises".
"The thematic debates and discussions during the Assembly, which included universal Access to affordable housing, urban climate action, urban crises recovery, localisation of the SDGs, and prosperity and local finance, are aligned with our overall strategy as an organisation," Mr. Hann concluded.