Shell Nigeria says it has remitted the sum of N180 million into the dedicated account for the scheduled cleanup exercise of oil spillage in Ogoniland in Rivers State, thereby hinting about the possibility of the early commencement of the much-anticipated exercise.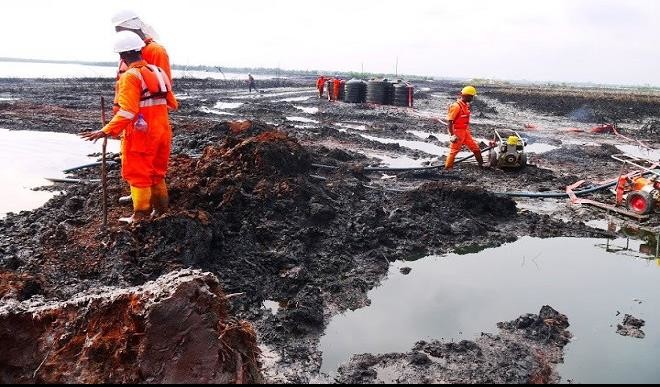 Speaking with newsmen on Monday, May 13, 2019 at a Media Launch of the 2019 Edition of the Shell in Nigeria Briefing Notes in Lagos, Osagie Okunbor, Chairman of Shell Companies in Nigeria, disclosed that it's affiliate, Shell Petroleum Development Company of Nigeria Limited Joint Venture (SPDC-JV), had fully paid the said sum to the Nigerian government, an amount which he said represents first year remittance and 20 per cent of the N900 million expected of it to pay for financing the project for the next five years.
According to the judgement of the International Criminal Court (ICC) in Hague's, Shell Petroleum and others were found guilty and convicted of damaging the environment, marine lives and as well as subjecting the lives of the people of Ogoni Community to untold hardship because of its oil exploration activities in the area.
The cleanup exercise is being administered by a Special Governing Council, of which the Minister of Transport, Rotimi Amechi, is the Chairman and Okunbor a member. The remaining members on the committee are elders and stakeholders of the Ogoni Community.
"Under the precondition for the cleanup of Ogoni spillage, the fund for the first year, N180 million, has been fully contributed by SPDC-JV. That amount represents the 90% of total fund require to carry out the exercise in a year. And I think the concerned companies saddled with the exercise would have been or maybe mobilised any moment," Okunbor said.
Buttressing his boss, SPDC's General Manager, External Relations, Igo Weli, added that the said payment was one of the manifestations of his company's commitment to looking beyond profitability, but also the development of the Nigerian state and its people.
"For emphasis sake, we've stopped oil production in Ogoniland 26 years ago. But we have assets that run through the area. Therefore, as far as we are concerned, our activities in Nigeria is behind profit making, but commitment to invaluable contributions to the development of the country's economy and the development of its people," he added.
Okunbor described the annual media presentation of Shell's Briefing Notes as another confirmation of its dedication to transparency, accountability and public dialogue on any development issues concerning it.
He said the 2019 edition of the Note is a compendium of all of it activities, including executed and ongoing projects, contributions to the economy of Nigeria and the volume of its investment on human development through its Corporate Social Responsibility profiles.
By Bankole Shakirudeen Adeshina