Mohammed Sabtuwo does not just want to talk about how agriculture has changed his life; he wants to show us.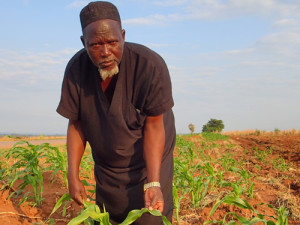 Before we know it, he is up from his seat and whisking us away to his house, a sense of urgency in every step.
On the way, he points to a small house, about half the size of a car garage that is made of timber slats and a tin roof.
This is how he used to live, in a small house, providing shelter from the elements and a place to sleep, but not much else.
Now, he has one of the largest houses in the neighborhood, and one that is about 10 times the size of his old house.
He opens the door and leads us through to a large open area with many rooms opening on to it.
You can sense his pride and joy at being able to tell his story.
"I've been building this house for the past two seasons (crop growing seasons) and after this harvest I hope to finish it," he says pointing to the last two rooms that still need walls and a roof.
"Before I started working with Pangabu, I was planting 12 hectares and only harvesting 15 bags per hectare (roughly 0.75t/ha).
"Now I am planting two hectares and getting 63 bags (or 3.12t/ha)," Sabtuwo adds.
Pangabu is the owner of Pee Farms, a seed and agro-dealer company based in the Ashante region of Ghana, one of the country's largest regions in terms of size and population.
Pee Farms is a grantee of the Scaling Seeds and Technologies Partnership in Africa (SSTP) an initiative between the Alliance for a Green Revolution in Africa (AGRA) and USAID that is working to deliver improved seed and technologies to farmers.
Improved seed and technologies can have a dramatic impact on farm yields and incomes, for example, most farmers in Ghana are harvesting around 1.7t of maize to the hectare, significantly lower than the potential yield of 6t/ha.
Seed variety, plant spacing, weeding and the use of fertilizer all contribute to higher yields, but the challenge remains to ensure farmers are able to access these inputs and training to help transform their lives.
This is where partnerships like SSTP become important, as they help build the capacity of companies like Pee Farms to produce and disseminate high-quality seed to farmers.
Each year, Pee Farms uses its own farms and out-growers – farmers who are contracted to grow seed – to produce seed, which is harvested, packaged and distributed through Pee Farm's networks.
Sabtuwo is one of the 400 out-growers that Pee Farms is working with.
As well as providing seed for planting, Pee Farms is also teaching farmers agronomic practices, such as plant spacing, which can dramatically improve yields.
"Pangabu has demonstration sites that he takes us to, so when the tractor is clearing the land or planting seed, he takes us to see it, so we can watch and then go back to our own farms and practice what we saw," he says.
As well as using demonstration plots to highlight the strengths of improved seed, Pangabu regularly gets on the local radio station to promote the benefits of using improved seed.
Speaking with many of the farmers in Ejura, the village where Pangabu is based, you can get a feeling of the impact his is having on the local community.
"Since we have started helping Pangabu (as out-growers), Pangabu, has been helpful to us," one farmer says.
"He helps us to buy seed and the fertilizer and with the training; so we are really happy," he adds.
Pangabu says he will not have been able to grow as he has without the support of SSTP, but he also highlights how this grant is more than just about Pee Farms and his success.
"As I grow, I will grow with my out-growers, and I am growing along with my out-growers, I can't leave them behind."
Courtesy: Alliance for a Green Revolution in Africa (AGRA)