Students of the Federal College of Education, Zaria in Kaduna State have made strong commitments to drive the United Nations' Sustainable Development Goals (SDGs) in Nigeria.
Some 103 students who participated at the SDGs4Universities workshop organised by the International Climate Change Development Initiative in October 2019 now see themselves as central players in issues of national and global development.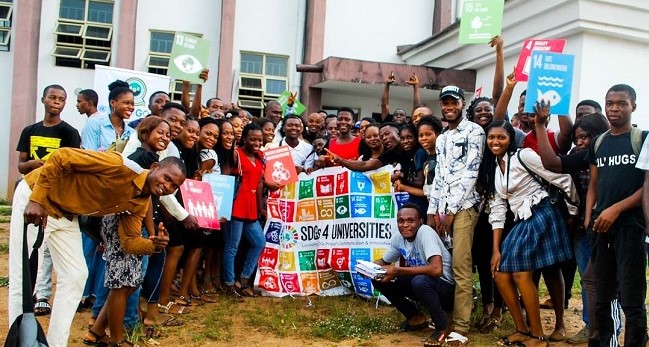 Opening the workshop, the Provost of the Federal College of Education, Zaria, Dr.A. A. Ladan, represented by the Dean Student Affairs, Dr. A. S. Ujata, emphasised the importance of having young people as the backbone of the United Nations Sustainable Development Goals.
"You (students) have the strategic opportunity, enthusiasm, doggedness to make a contribution. Either way, you look at it, here in Kaduna State, young people are directly connected to at least five of the seventeen global goals. You must be aware that the realization of these goals is largely dependent on young people."
Dr. Ujata, on behalf of the Federal College of Education, expressed his gratitude to the facilitators and organisers for considering selected students of the institution to benefit from the workshop. He also made a commitment that the institution would support the students on how they can practically localise actions towards driving the SDGs in the school and in local communities.
During a panel discussion moderated by Miss. Sakinat Bello, facilitators shared tips on how students can localise actions putting in perspective religious, cultural and customary specifics while trying to achieve the global framework of the SDGs.
Miss. Mary Ofure Marcus and Mr. Isah Kabir Ringim expressed how Nigeria is leveraging her passionate youth population to innovatively drive the success of the SDGs. Another facilitator, Umar Saleh Anka, stated that education is the backbone of innovation and without education, there is no room for innovation. On his part, Valentine Idaewor stressed the need for unity, peace, justice and strong institutions and also partnerships for the goals.
The SDGs4Universities workshop is an initiative of the ICCDI that has been taking the knowledge of the SDGs to various tertiary institutions across the country.
The workshop came to an end with the establishment of the FCE, Zaria SDGs Club in the institution. The 7th SDGs4Universities workshop in Nigeria and the second in the North-West region of Nigeria, it was facilitated by Umar Farouk and Ibrahim Muhammad Shamsuddin.
By Seyifunmi Adebote