UN Resident and Humanitarian Co-ordinator in Nigeria, Mr Matthias Schmale, has called for effective engagement of youth in policies and programmes to ensure success of the Sustainable Development Goals (SDGs).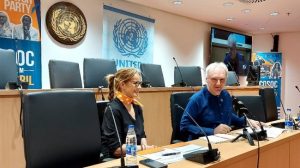 Schmale made the call in Abuja while delivering an address at the inaugural ceremony of the ECOSOC Youth Forum 2023 Watch Party which is celebrated globally from April 25 to 27.
The forum, organised by the UN Nigeria Inter-Agency Group, had the theme: "Accelerating the recovery from the coronavirus disease (COVID-19) and full implementation of the 2030 Agenda with and for youths sustainable development at all levels."
According to him, the event which is an initiative of the UN ECOSOC President provide platform for young people to share ideas at global levels and contribute meaningfully to policy discussions at the UN House.
"As our former Secretary-General Kofi Annan once said: "You are never too young to lead, and you should never doubt your capacity to triumph where others have not".
"If your generation can triumph, then so will Nigeria and broader African continent with median age of 18, this country has one of the highest populations of young people in the world.
"This will play a critical role in promoting sustainable development and achieving peace, and prosperity on a global scale. 
"Nigeria has its own share of internal challenges, including insurgency in Northeast and limited scope of social protection system.
"Poverty is affecting more than 139 million people and there's a broken social contract between those who govern, and the citizens and this has made a significant portion of Nigeria's young population vulnerable, as evidenced by the existing 34.9 per cent rate of youth unemployment and 20 million out-of-school children.
"Nigeria's young people must be effectively included in the design, implementation, and monitoring of policies and programmes aimed at addressing the impacts of the pandemic and achieving the SDGs. 
"We must leave no one behind," Schmale said.
He said a cooperation framework which provides a five-year roadmap for UN efforts to progress towards the SDGs had been signed between the UN and Nigeria.
He said the framework is centered around people, planet, prosperity, and peace, as well as package of transformative initiatives, which drive development across the country. 
The co-ordinator reassured the gathering of the UN's commitment to ensuring that young people were meaningfully engaged and involved in the framework, and its strategies to achieve the SDGs, including in climate, gender inequality, health, and education.
 Also speaking at the event, Ms Ulla Elisabeth Mueller, Country Representative of UN Population Fund (UNFPA), described ECOSOC as a point where decisions are made on ways to engage with the right people at the right time.
According to her, in spite of the impact of the Coronavirus  on youth, not just in terms of health, but in education and other areas of life, there's is the need to dialogue and chart the way forward.
"It means you have to come together and discuss meaningfully on ways to move forward,.
"There is need for us to engage you differently and support you differently.
"There is need for us to ensure that we have quality investment in order to secure your education, health, future, economic and social-development.
"We can not do that if you do not start to think k differently,, so it is an agenda where we have to think beyond our immediate responsibilities," she said.
By Fortune Abang