A new analysis of satellite data dispels the prevailing view that rainforests took the biggest hit from widespread fires in Indonesia in 2019.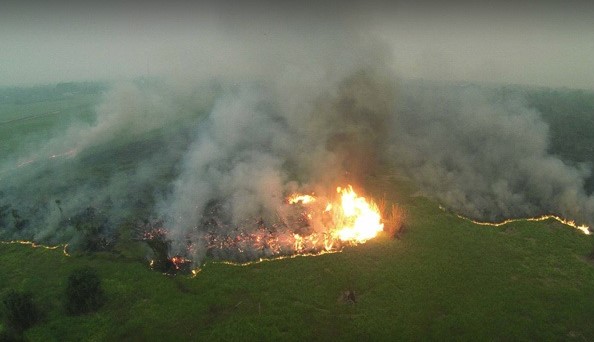 "While there has been much speculation in the news that the heavy fire season has taken a toll on the country's remaining rainforests, there was no hard evidence to support that notion," said David Gaveau, a landscape ecologist, and research associate at the Centre for International Forestry Research (CIFOR) in Bogor, Indonesia.
"We set out to determine how much land has burned and what type of land cover has been burning. This knowledge is crucial to understanding consequences and formulating solutions."
To provide a rapid but detailed assessment of burned areas, scientists analysed time-series imagery taken by the Sentinel-2 satellites between Jan. 1 and Oct. 31, 2019. They performed the analysis in Google Earth Engine.
The satellite assessment estimates that 1.64 million hectares burned between Jan. 1 and Oct. 31, 2019 across seven Indonesian provinces, including 670,000 ha (41 percent) in peatlands, which play a crucial role as carbon sinks. Central Kalimantan; Jambi; West Kalimantan; South Kalimantan; Jambi; South Sumatra and Papua are provinces where fires are a recurring problem.
This finding revealed that the scale of the 2019 fires is large – commensurate with the catastrophic 2015 fires when 2.1 million hectares burned.
In 2015, a powerful El-Niño was partly to blame for drought-induced widespread fires, which burned an estimated 2.6 million hectares across Indonesia, emitting 1.2 billion tonnes of CO2 equivalent representing half of the country's total emissions in that year.
Palangkaraya, the capital of Central Kalimantan, suffered the greatest air quality impact, one of the worst sustained air quality measurements ever recorded worldwide.
Based on visual inspection of high-resolution image samples (2,920 samples) taken before fire, they found that 76% of burning occurred on idle lands (lahan terlantar in Indonesia). Those lands were forest several years ago, but cycles of repeated burns have converted them to unproductive degraded scrublands.
There has been much speculation in the news that Indonesian fires are ignited by land clearing activities to establish plantations. Clearing land for this purpose only partly describes the situation. Uncontrolled fires easily propagate well beyond the intended area of burning because of large areas of flammable idle and degraded scrublands, the legacy of past deforestation.
Although the data show 3% to 3.6% of 2019 fires burned in forested landscapes, which may seem small, it is still too much. Up to 60,000 ha of old-growth forest has been impacted by burning, mainly on peatlands. These burned peat-swamp forests will probably never recover, and be replaced by flammable scrublands, with consequences for local and global ecosystems.