Rotary District Governor 2022/2023, District 9125, Dr Goddy Nnadi, has appealed to stakeholders to take proactive approaches to prevent effects of global warming in Nigeria as against being reactional.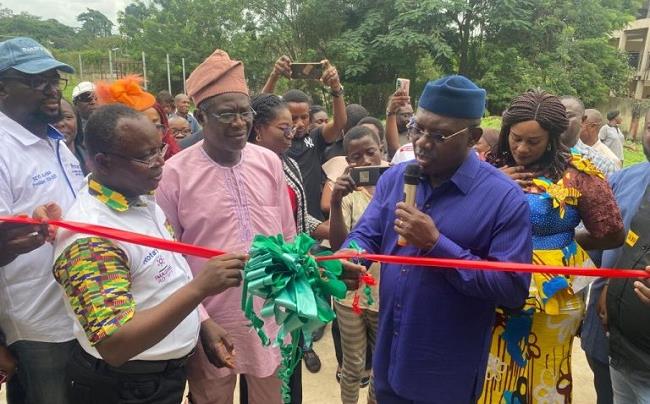 Nnadi made the appeal on Thursday, October 6, 2022, in Ibadan, Oyo State, at the inauguration of a dump-site and incinerator at Alexander Brown Hall and Ayodele Falase Postgraduate Hall, University College Hospital (UCH), donated by Rotary Jericho Metro Club, Ibadan.
The project was built for the use of medical students of the University of Ibadan.
According to him, global warming is real and the impact on all of us worldwide has been seen. Everyday right from U.S, you see hurricane Ian and its impact in Florida and also what happened in Pakistan.
"We do not have to wait until it gets to Nigeria and we are not prepared; one, we have a huge population and secondly, we don't have full preparation for emergency services, we have NEMA all well and good, but we must not wait till it gets to that point.
"The step taken today by Rotary Jericho Metro Club is one of the steps necessary to forestall those things so that it doesn't occur.
"If we don't take measures early to prevent them, like we say preparation is better than cure, it is good that we plan ahead of it. Be proactive to do those things that are necessary," Nnadi said.
The district governor, while appreciating members of the club, said that the project would enhance a clean environment and sanitation for medical students to help their personal hygiene, overall wellbeing and the community would be cleaner and better.
Also, Mr Oluseye Diyan, the President, Rotary Jericho Metro, Ibadan, said that the project was in line with two out of seven thematic focuses of Rotary, namely environment, treatment and prevention of diseases.
Diyan said the project was to solve the problem of illicit waste disposal and management noticed in the halls inside UCH.
"This is an academic environment, when you see exposed waste scattered all around the premises here, it doesn't make anybody happy.
"We felt that we should do something about it and that was what birth the project.
"Also, knowing that medical students are occupying the hostel here, hence, the need to enhance a conducive and hygienic learning environment. Waste could be properly disposed," the president said.
In his remarks, the Vice-Chancellor, University of Ibadan, Prof. Kayode Adebowale, represented by Director, Physical Planning and Development, Dr Sunday Adesokan, said that he was very happy to have this kind of a need assessment project, adding it had actually met the need.
"The club has done us well for giving us this project. One thing I want to commend for is their delivery time. This is to tell us that, in Nigeria, things could get better.
"At times, we do have some abandoned projects due to bureaucracy or the contractor not being competent or even this issue of due process is undue process. But this project was delivered in one month," he said.
By Ibukun Emiola