"Environment is human's first right. Without a safe environment, no one can exist to claim other rights be they social, economic and political." – Ken Saro Wiwa, late Nigerian human rights activist and environmentalist.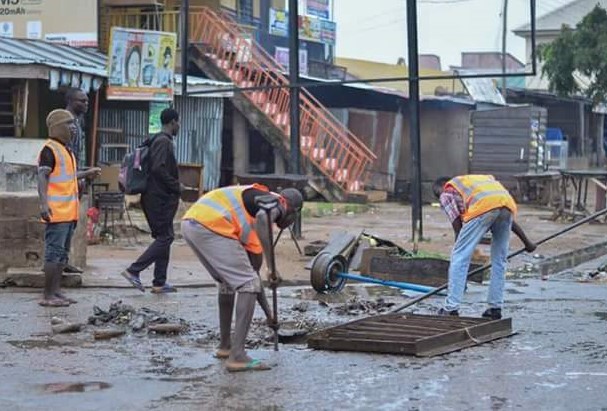 These words of Saro Wiwa point to the fact that the environment sustains humans; it is where we live and we must preserve it. Several studies have revealed that the way people treat their environment greatly influences the quality of their wellbeing. It is important they adopt practices and hygienic conditions that will promote good environmental sanitation and cleanliness which will eventually guarantee them good health.
It is in the light of the above that the Kwara State Internal Revenue Service (KWIRS), recently, as part of its community impact programmes, embarked on an environmental sanitation exercise to clear drainages and repair damaged portions of various roads within the Ilorin Metropolis.
The KWIRS team led by its Executive Chairman, Dr. Muritala Awodun, moved around the streets of Ilorin to sensitise residents on the need to keep their environment clean. Dr. Awodun explained that the sensitisation campaign was informed by the need to make Kwara tidy, adding that the clearing of drainages is to allow for free flow of water as they have been blocked by filths.
He stated that the fixing of potholes, which has begun on the Tanke-University of Ilorin Road, would be extended to other parts of the metropolis such as Asa Dam, Muritala Road, Adewole, Sango and many other areas.
The KWIRS boss advised people of the state to stop throwing refuse into drainages in order to prevent flooding during the rainy season, while noting that flooding causes damage to the roads. He noted that everybody has a role to play in ensuring a more sustainable environment.
In continuation of its efforts to encourage proper waste disposal in the community, KWIRS, in collaboration with the State Ministry of Environment, has acquired 40 tricycles which will be used to collect wastes on a daily basis. Big nylons where the wastes will be kept will also be distributed to households. This is to prevent indiscriminate dumping of refuse as several drainages have been turned to dump sites.
Dr. Awodun, who disclosed this to newsmen, noted that the provision of the tricycles, which will be branded as "environmental tricyles", is to ensure adequate waste collection, recovery and disposal arrangements as the tricycles will be moving around to collect wastes. He assured that the tricycles would commence operations by September.
He said that KWIRS would not relent in carrying out its community impact programmes, just as he encouraged the people of the state to keep paying their taxes, adding that it is their civic responsibility.
The KWIRS commitment to ensure a clean 'Kwara environment' through its community environmental sanitation exercise would be rendered useless if we the people continue to treat the environment with impunity. We must begin to treat issues of environmental sanitation with all the seriousness it deserves by ensuring proper disposal of waste and adopting other hygienic environmental practices.
By Hameed Muritala (Ilorin, Kwara State)