A draft training manual/curriculum detailing the knowledge required for a developer in the mini-grid space to be able to successfully execute Interconnected Mini-Grids (ICM) in Nigeria has been endorsed.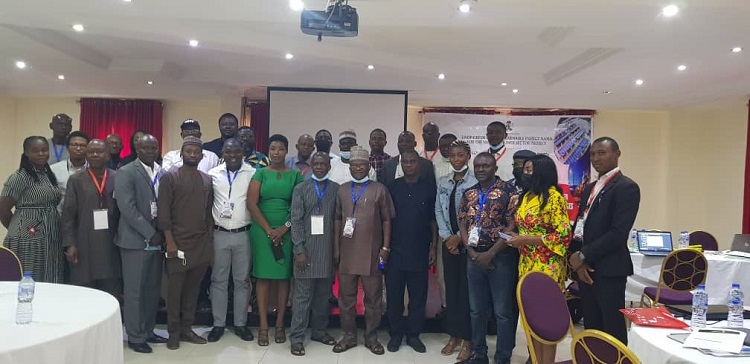 A mini-grid is a set of small-scale electricity generators and possibly energy storage systems interconnected to a distribution network that supplies electricity to a small, localised group of customers and operates independently from the national transmission grid.
At a two-day Stakeholders' Validation Workshop held from June 10 to 11, 2021 in Lagos, the guidebook was subjected to experts' peer review, wherein stakeholders had an opportunity to scrutinise the manual, while enhancing their buy-in and ownership as eventual end-users of the knowledge product.
The event was held under the De-Risking Renewable Energy NAMA (Nationally Appropriate Mitigation Action) for the Nigerian Power Sector Project, being promoted by Global Environment Facility (GEF) and United Nations Development Programme (UNDP) in collaboration with the Energy Commission of Nigeria (ECN). The five-year project commenced in 2017.
A Mid-Term Review (MTR) of the project conducted in 2019 refocused it from a utility scale solar PV to interconnected mini-grid. Recognising the limited skills and experience of mini-grid developers and other key industry stakeholders to scale up the implementation of many more isolated and interconnected mini-grids, the project in 2020 developed a training manual in that regard.
The draft manual which has since been reviewed and validated, covers all the major aspects of required knowledge and skills to start, execute and run a mini-grid plant in Nigeria.
In his opening remarks, Prof. E. J. Bala, Director-General/CEO, ECN, said: "Our gathering here today is very important because, the need to exploit the huge renewable energy resources in the country cannot be over-emphasized. Let me remind you that the nation lies within a high sunshine belt and thus has enormous solar energy potentials.
"It is in recognition of this, that the Nation in its Vision 30:30:30 set the target to achieve 32,000 MW of available generation capacity on the grid by 2030 with 30 per cent renewable energy (RE) penetration. This ambitious target emanates from our collective pursuit for energy security."
According to him, initial commitments and enthusiasms of both government and private developers informed the approval of the UNDP-GEF project for Nigeria.
Prof. Bala added: "The original vision of the project was to catalyse private sector investments in grid-connected renewable energy (solar PV) in Nigeria with the 100 MW Solar-PV project of the Nigerian Solar Capital in Bauchi State as the 'demonstration on-grid Solar-PV'.
"Unfortunately, due to the overwhelming inherent risks in large-scale RE development in the country, none of the prospective private investors (initially, 14 IPPs) registered have been able to reach financial close.
"Consequently, the project was re-designed to re-focus on the development of interconnected mini-grids, which seems to face lesser challenges and risks."
Delivering a keynote address, Okon Ekpenyong, Director (Linkages, Research & Consultancy), ECN, said that the Nigerian Electricity Industry (NEI) is dominated with fossil-fueled power plants and less than 30% of large-scale hydropower plants.
According to him, there is a strong drive by Nigeria to improve electricity access and reduce GHG emissions through the exploitation of renewable energy sources, like solar.
"To achieve this human capacity needs to be built. Presently, the market for mini-grids in Nigeria is still relatively immature, and this is demonstrated in lack of skills and experience of developers and other key industry stakeholders," Ekpenyong submitted, adding that mini-grid developers need more capacities to: manage staff and other human resource, manage cash, as well as execute financial planning and structuring schemes.
He grouped the skills, knowledge and experience gaps that needed to be filled into technical and engineering; commercial; policy, legal and regulatory; as well as financing.
In a goodwill message, My Iyoha Anthony of the National Power Training Institute of Nigeria (NAPTIN) said: "Having a manual is a welcome development as it will address local issues. We will have a manual addressing the technical core issues relating to mini-grid construction and utilisation issues."
A representative of the Lagos Energy Academy said: "We appreciate the platform provided to build capacity, and we are happy to be involved in the validation of this training manual."
An official of the Federal Ministry of Environment said: "We are taking the right step in the right direction. A validation exercise is one of the right steps."
The training module groups comprised: Legal, Regulatory Compliance and Contracting; jnterconnected Mini-Grid Business Development; Preparation of Technical and Financial Bankable Project Proposals for Loan Application; Technical: Site Identification, Demand Assessment, Site Design and Sizing, etc; and, Large Scale Solar Safety.