The Statistician General of the Federation, Dr Simon Basha-Harry, has identified reliable statistics as crucial for effective monitoring and evaluation of Sustainable Development Goals indicators and the Africa Agenda 2063.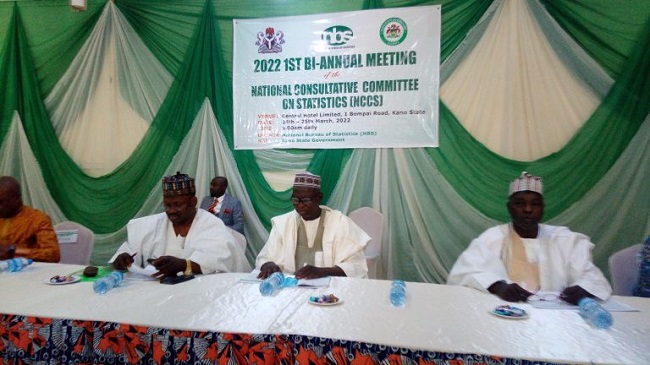 Barsha-Harry made the assertion at the first Bi-annual meeting of the National Consultative Committee on Statistics (NCCS), on Thursday, March 24, 2022, in Kano.
"It has become necessary for the statistical system in Nigeria to provide the statistics needed for the monitoring and evaluation of the implementation of NDP/SDGs.
"Tracking and monitoring progress being made in achieving SDGs, as well as Africa Agenda 2063.
"These are key national and global programmes that require comprehensive, timely and reliable statistical information to achieve the desired results," he said.
He urged the State Bureaux of Statistics to ensure that relevant frameworks were put in place to guide the process of statistical production at the subnational level.
He noted that across the globe, statistics have been playing an important role in understanding the magnitude of the global crisis.
"It also assisted in designing and implementing policies to address them.
"Statistics offices around the world have played an important role in educating the public and supporting policy process," he said.
In his remark, Gov. Abdullahi Ganduje, said that the government's economic transformation programmes focused on meeting the SDGs goal 17 in Nigeria.
"To make this happen, government will want to have at its fingertips the milestones on each of the 169 targets and 232 key performance indicators in Nigeria through your timely coordination," he said.
Represented by Abba Mustapha, Permanent Secretary, Kano State Public Procurement Bureau, Ganduje said the country needed reliable and timely indicators on major sectors of the economy.
He further said that the state government had conducted headcount for pastoralists across the 44 local government areas, adding that the exercise resulted to the formulations of multiple viable policies and programmes.
The governor said that the state would continue to empower Ministries Departments and Agencies (MDAs), and Local Government Councils (LGCs), to enable them to collect statistics peculiar to their operations for sustainable development of the state.
By Zubairu Idris